Getting an agent started on your site is now easier than ever! We have streamlined the process so that you can now create and delete your agent's sites in a snap.
Step by Step
Creating a New Agent Site
*Note this is available for Admins/Brokers only
Go to admin > inline menu > Agents
Creating the agent will allow you to create the site for the agent and allow for contact distribution.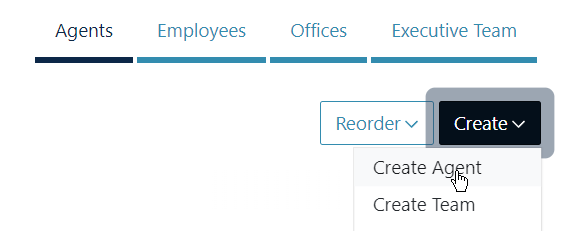 Click

"Create" drop-down from the Agents & Brokers page.

Click

"Create Agent"

Fill

out all primary information for

the agent

:

First

Name(required)

Last

Name(required)

Phone

Number (strongly

recommended)

'

Email(required)

Password(required)

Confirm

Password(required)

Check "Contact Management Account

".

This

will also show how many seats you have available on your plan.

Click "Create Agent" on the upper right side of the page.

 
After completing the steps above, wait

approximately 5-30

minutes to see your creation. If you are unable to see the creation after following the steps double check that the steps have been completed and that "contact management" is selected.

 




 




To see that your agent has been created, you will be able to search by their name on the

previous

"Agents" page that you were just on. This will also create a URL for the agent. After that,

you're

all set!
Deactivate an Agent site
To deactivate an Agent site:
Go to admin > inline menu > Agents
Search

for the agent you wish to delete

Click

on the paper and pencil icon to the right of the agent

On

the next screen, un-check "Agent Website"



On

the upper right-hand side, select the chevron next to "Update

Agent" and select it. The drop-down will show the "Deactivate

Agent" button to press.



Once you have completed the above steps, you will know that the agent has been deactivated because their name will be "

greyed out

".