Advertise your active listings on social media with Homespotter Boost Follow

Propertybase has partnered with Boost by Homespotter to give you the ability to conveniently create social media advertising ads for your active listings directly from the Propertybase CRM.
You can access this feature by going to your Sales Exclusive for any active, pending, or contingent status property for which you are the listing or co-listing agent. Go to Property > Sales Exclusives, where you will see the option to Boost the Property.

Similarly, you can also a Boost a Property from the internal Property Details Page by clicking on the Boost Property button, which will launch you into the same workflow.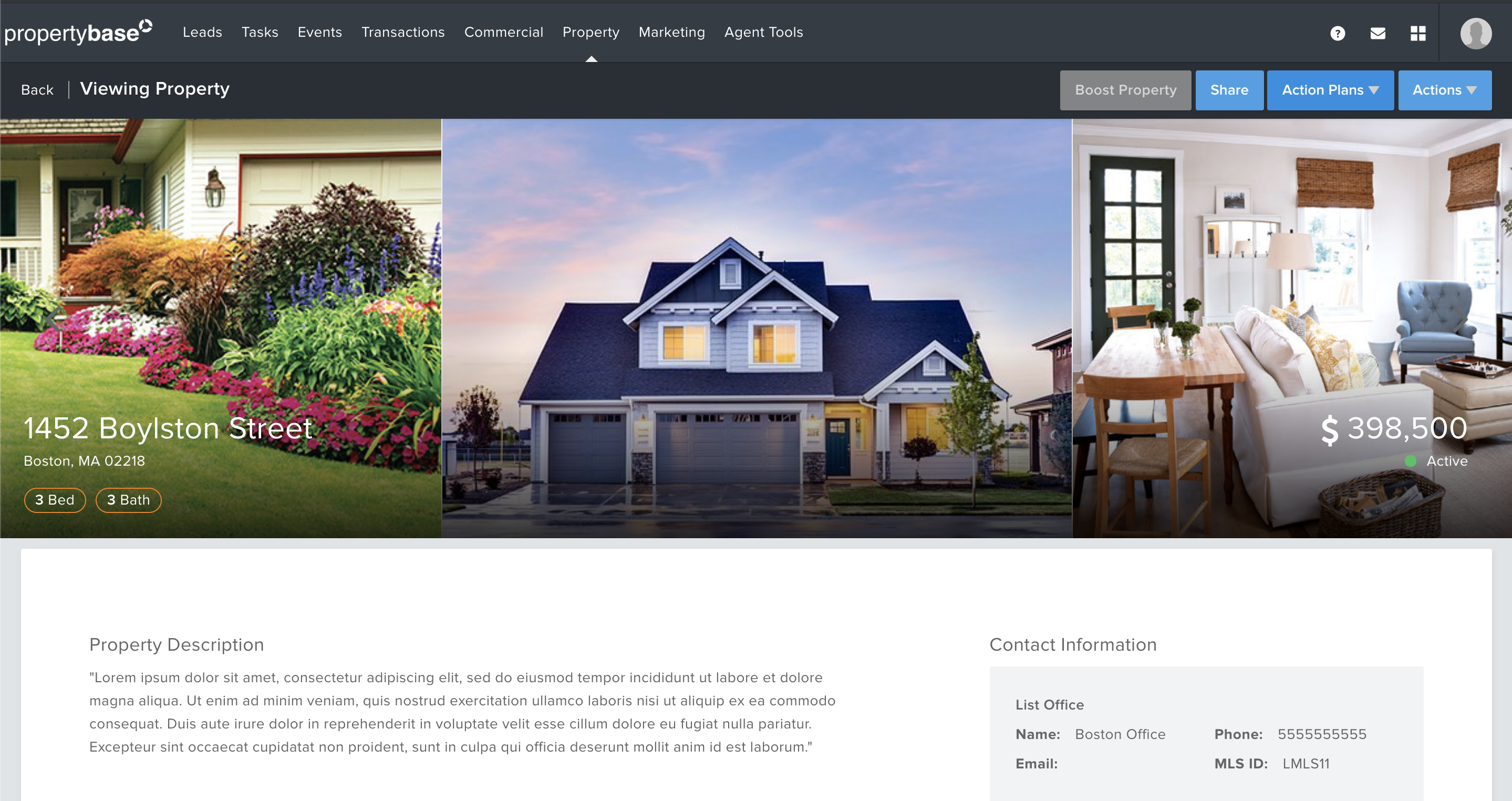 How to Create an Ad
If you already have a Boost account, you will be automatically logged into your existing lead account. If you are not currently a Boost user, a Boost account will be automatically created for you when you first use this feature.
Click Boost Property to launch into Boost by Homespotter and start creating an Active Listings ad. Property details and photos will be pre-filled with the listing information from your MLS or from LogicMLS.
Finish creating your Facebook ad by confirming the ad details.
Select where you want to direct your ad traffic to. By default, the ad will redirect leads back to the listing's property landing page. You can also choose to have leads go to a Boost landing page.

Choose your target audience and target area to define who will see the ad.

Choose the ad plan and duration that works for you, and click Checkout to fill in your payment details and place your order.
Once this is complete, the ad will be displayed to a targeted audience on Facebook, Instagram, and across the web based on the ad views plan you choose. The target audience is custom to the listing's area and property details.
How to Manage your Campaign
If an Active Listings ad campaign is already running for the listing, clicking on the Boost icon (which will say "Boost Status") will take you to manage that campaign in Boost by Homespotter. From here, you can edit your campaign details, adjust your campaign spend, de-activate the campaign, or see a preview on Facebook, Instagram, and the web.
How to Re-Boost Your Listing
If you have previously Boosted the property before and want to re-create a campaign, you can follow the same workflow as creating an ad (click the same Boost Property icon, which will now say "Boost Again").
FAQ
Q: Who will see my ad?
The ads will display on the news feeds of a custom audience based on the individual listing's location and property details.
Related Article: Share the ad to your Facebook page
Q: What happens when someone clicks on my ad?
When someone clicks on the ad, they will be taken directly to the listing's property details page or to a Boost-created landing page, depending on your selection at the time of your ad setup.
Q: What will my ad look like?
To preview the ad, click on Boost Status or click on the campaign from the Boost Dashboard to go to the campaign page.
Q: How can I see how my ad is doing?
If you have chosen to direct ad traffic to the Propertybase Websites property details page for the listings, ad engagement stats can be viewed in the listings report. In the back-end PDP, go to the Actions dropdown and click "View Listing Report". At the bottom of the report, you will find campaign stats (number of impressions, clicks, engagement, and lead conversions) for each "Boost" session.

If you chose to redirect the ad to a Boost landing page, you can go to the campaign page in Boost (click "Boost Status" for an actively running campaign or go to your Boost Dashboard) and click Engagement to view engagement metrics.
You can also run an advanced lead search using UTM parameters to generate a list of leads who engaged with the ad. Traffic will automatically tagged with the following values:
utm_source = boost-by-homespotter
utm_medium = paid-social
utm_campaign = property-boost
utm_term = [MLS ID]
Q: I have a question about billing. Who should I talk to?
Please log into Homespotter and use their online chat services, or reach out to boost@homespotter.com directly.
Additional Resources