Blog Posts; How to Create, Edit, and Delete [Next Gen] Follow
Summary
Blogs are a fantastic way to earn client business by providing industry knowledge. Please know that the Blog tab will only show if the Blog option is enabled.
Step by Step
admin > website tab > blog tab
New Blog Post
1. To create a new blog post, start by selecting the website tab

2. Select the blog tab

3. Once on the blog page, select the "Create New" button. A blog template will prompt through the requested information.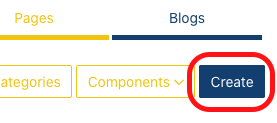 To make sure that the Blog is visible, ensure that the "published" box is checked. It is possible to backdate or future date any blog post.
Edit or Delete a Blog Post
1. To edit a blog post, select the pencil icon next to the blog post to be edited. Also, you can choose the trash can to remove the blog post entirely.

This will prompt the blog creation page from this post, and changes can be made. On this menu, in addition to changing the publishing date, there is an option to un-publish without deleting.
Options to edit or delete previously created post and create a new post
FAQ
Q: Where does my Blog show up?
A: The link to the Blog can be placed in menus for easy access or as a Home Page Call Out
Q: Why do I not see the Blog Tab?
A: The Blog tab will only present itself if the blog option is added. If the Blog tab is not present, an Admin user can go to settings > bloggers and activate the needed users
How does this differ for agents?
As this is a part of the website tab, admin and broker level agents will have access to Blog post creations and deletions.