Deactivating or Reactivating and Agent [Next Gen] Follow
Summary
There may be cases where you need to deactivate agents who are not actively working for your brokerage or office/team. Here is how to deactivate or reactivate agents and some best practices prior to attempting to deactivate an agent.
Step by Step Deactivating an Agent:
admin > inline menu > agent
1. Select "My Profile"
2. Select "Agents"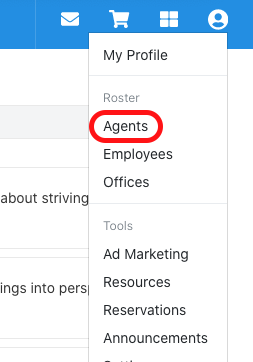 3. Select the name of the employee that is to be deactivated or reactivated. Next to the "Edit Agent" button, select the small drop-down menu and choose to deactivate or reactivate the agent.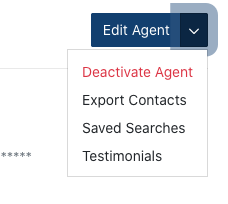 4. A pop-up window will appear and will ask you if you are sure you want to deactivate this agent.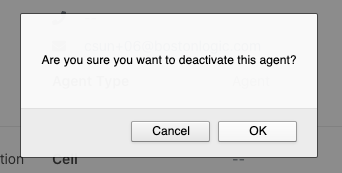 5. Once an agent has been deactivated they will still show in the user interface however their name will be shown as blurred.

6. Once an Agent has been deactivated, that Agent can also now be deleted from the User Interface.
Please use caution prior to hitting this delete button as once an Agent has been deleted there is no way to restore them. We do not recommend doing this step unless you are 100% certain this Agent will not be back at your brokerage. Please note if you have accidentally deleted an Agent prior to exporting their contacts, there is no way for us to restore this data. Please be advised.
7. If you wish to reactivate an Agent that is now coming back to your Brokerage, select the "Edit Agent" and the "Reactivate Agent" in the drop-down option.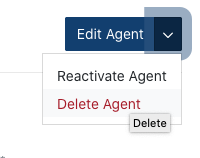 8. A pop-up will appear to verify if you are sure that you would like to reactivate this agent, select "Ok" if everything has been verified.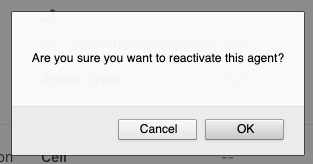 FAQ
Q: Which account permission levels can view these options?
A: Admin and broker level roles can view and change this information for agents and employees only. Brokers cannot deactivate brokers.
Q: Why can I not deactivate an Agent?
A: Most Agents that cannot be deactivated are due to 1 of 2 things:
They have an Open Deal/Transaction within the system
They are the default Agent for the account