Summary
Search Pages are pages with unique content you create (such as helpful information about an area) and dynamic search results you control by setting criteria when building the page. The information on these pages can be what you would tell someone looking for a new home in the area in question; you can talk about the demographics of the area, the great amenities, the architecture, the public transportation – anything you think clients would find useful or interesting. In addition, information on properties in the area such as average price, number of properties on market, and more is automatically added to the page.
Step by Step
admin > website > create button > search page
1. Starting on the admin page, select the website tab

2. On the website page, click the create button and choose the search page option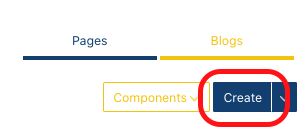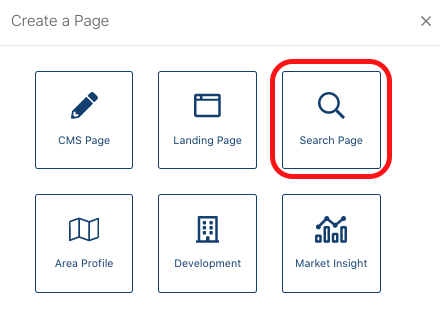 3. There are multiple options when creating the search page:
CMS Content:
Page Name - title of page and what shows in browser tab
Image and Content - Pictures or written content that can be added to a page
Forms - Previously created forms, can be used to gather information
Additional Sections - Can add an additional property search
Property Search:
Select MLS - Search pages can be narrowed down to a specific MLS
General Display Options - Map or Lead Capture can be added
Sales Display Options - Set order for listings to show (ex. high to low), demographics
Locations - Where is the property located (ex. town, development)
Filters - How can clients narrow their searches (ex. zip code, property type)
Open Houses - When can a client attend an open house
Additional Options - Other specifics that the client may be looking for (ex. cooling type, garages)
Map Information - A Mapped Search can be added to show the area included
SEO:
SEO Content
Footer Content
Permissions:
Page Viewable By - Who can see this page? Does a client need to be logged in to see this page
Widgets - previously built widgets
Menus - previously built side bar menus
Template & JS:
Custom Content - via Java Script or Source
FAQ
Q: What are search pages used for?
A: Search Pages are used to put together often search for items and make it more convenient for clients to see what if frequently looked for.
Q: How can I have a Map show automatically on a search page?
A: Please see Search Page edit below:

Please See Our Video for More Information:


How does this differ for agents?
Search pages are under the website tab so they are visible to admin and broker level users. Search pages are utilized by agents as part of their own sites.