Creating and Managing Categories [Next Gen] Follow
Summary
Categories can be used as a quick method to keep email marketing layouts together for ease of use.
Step by Step
admin > email marketing > layout tab OR content tab
1. Starting on the admin page, select the email marketing tab

2. Once on the marketing tab, select either the layout OR content tab
3. Once on the desired tab, select the manage categories button
4. Name the new category and save. This new category is now usable for the layout or content that is created.
To add or edit categories during the creation or edit of a layout or content piece: select the option to add a category. Choose the category that corresponds appropriately.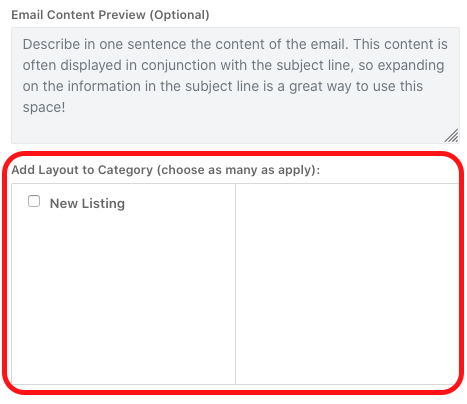 Definitions/Context
Categories are used to keep similar layouts or content pieces together.
How does this differ for agents?
Categories can be assigned by admin and broker level users and can be also utilized by agent level users as well to review