Configuration [Website Builder] Follow
Configuration
Path: Settings > Configuration
The Settings tab is the "control panel" for your website. Select this tab to make changes to default settings for a broad range of features. Make changes here and then click "Save Settings" to update the settings for your site.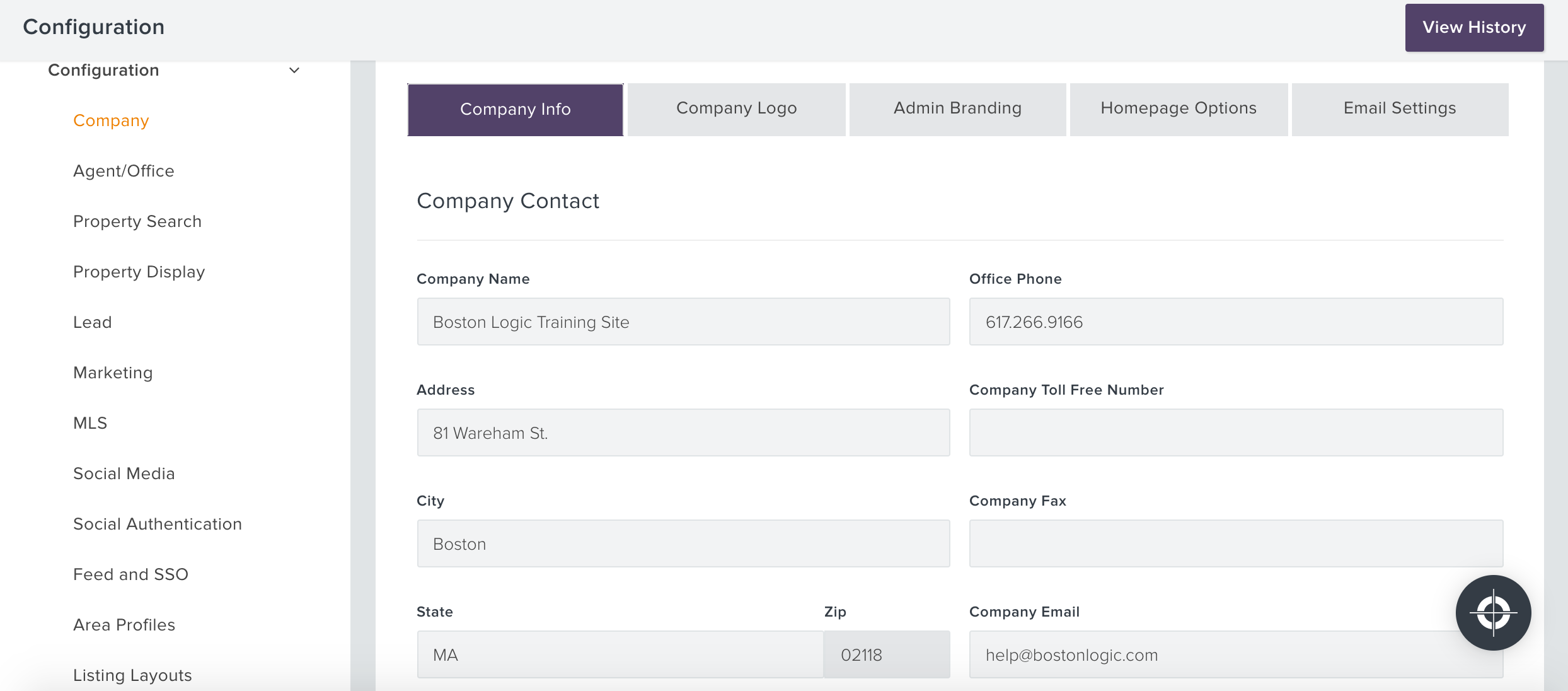 This section allows you to set basic information about your company such as address, phone and fax numbers. This information is also displayed in the footer of your website.
Logos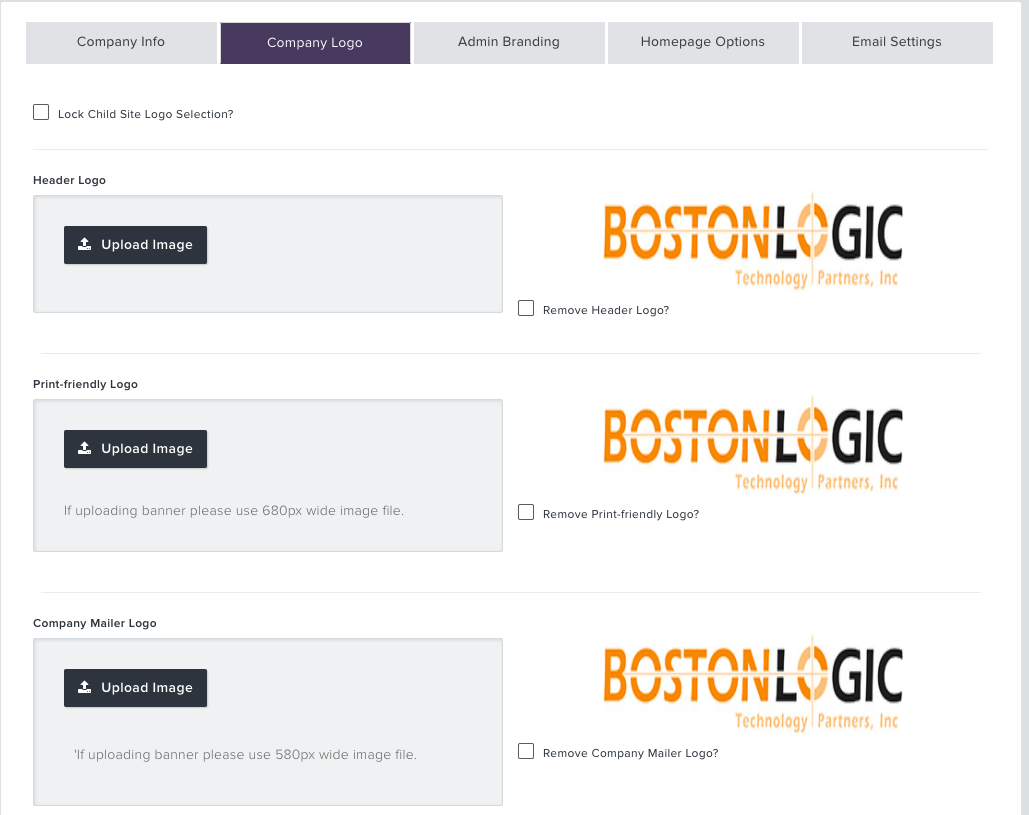 This section allows you to upload a logo to the header and/or footer of your website, as well as a separate logo for use in print and in emails. You would also upload your Favicon and Company App logo.
Homepage Background Options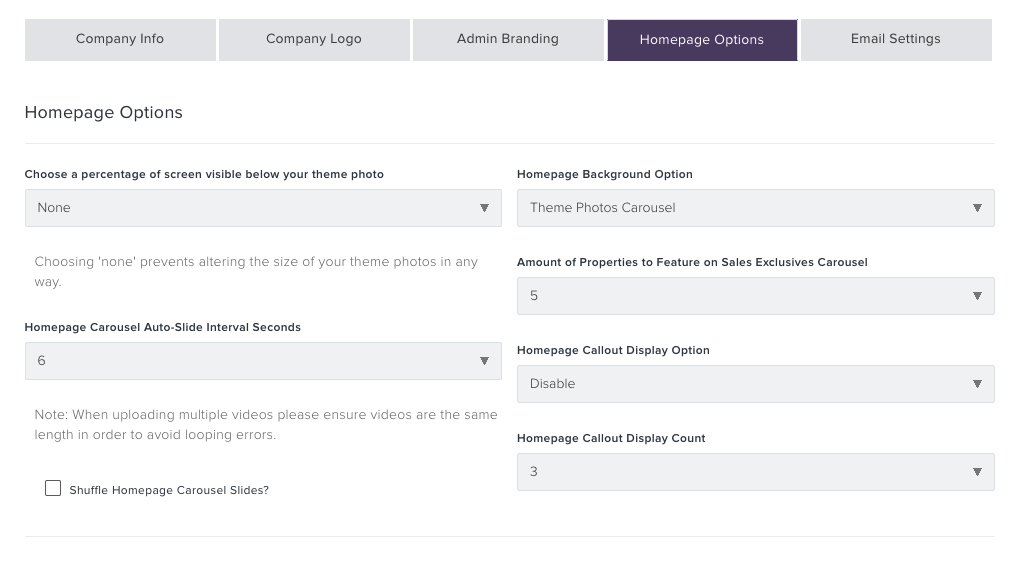 This section allows you to choose from Sales Exclusive Carousel, Random Sales Exclusive, Theme Photo Carousel or Random Theme Photo.
Email Settings

Information used for your email settings is pre-populated with the data used to set up your website, but you may change it at any time.
Note: This is the default email address that your users will receive email from if it is not coming from a designated account. (ie. In the case of unassigned leads.)
Agent/Office Info - Agent/Office Testimonials/Sidebar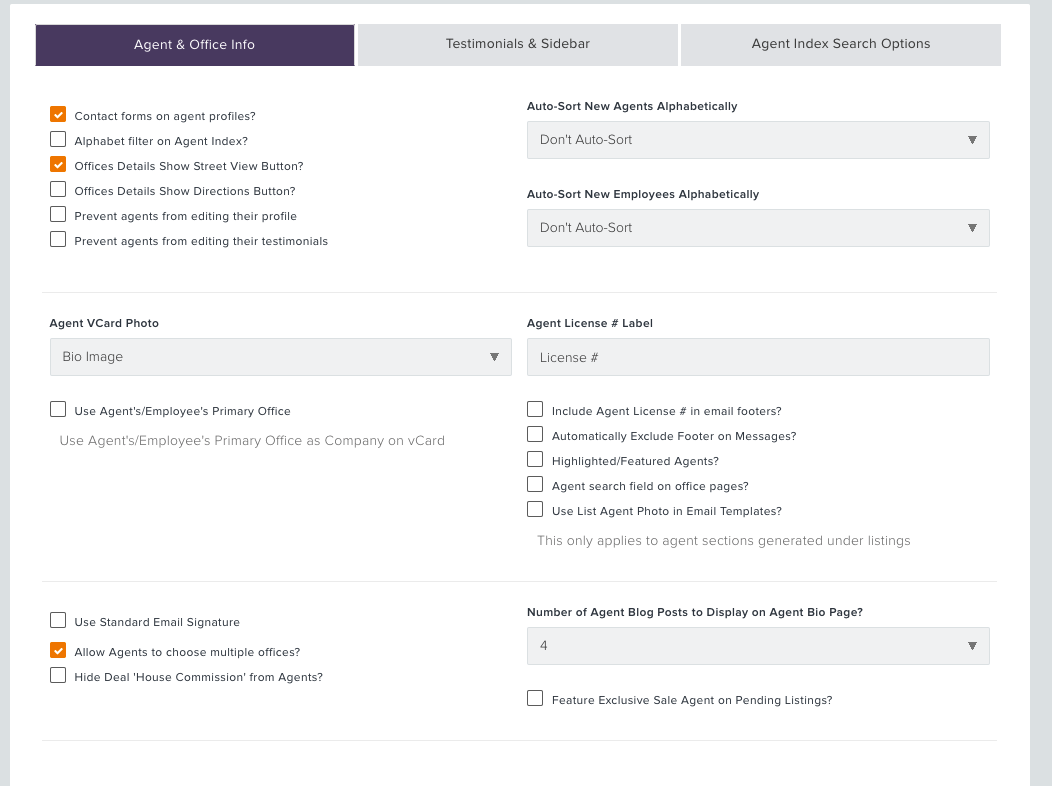 You can toggle a number of features pertaining to Agents and Office info in the section.
We also integrate with Testimonial Tree. You can enter your Testimonial Tree Widget ID here.
Property Search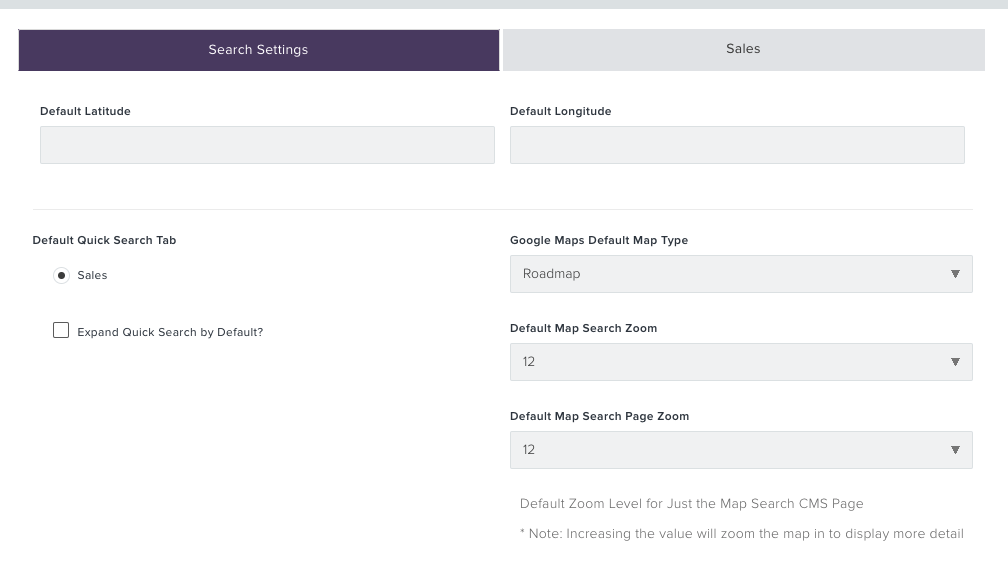 Define the latitude and longitude of the position you would like search maps to center on by default (when no listings are shown).
Default Quick Search Tab (For sites with both Sales & Rentals components)
This setting allows you to choose which tab all quick search forms will default to; users can select either Sales or Rentals at any time.
Sales/Rentals Search
Price Sort Direction allows you to display all search results in either ascending or descending order. This purpose of this section is to define the criteria that are displayed on your quick search and advanced search forms by default.
Default search settings are not required; however, they are useful if you are trying to attract a specific target market. You can set a default town, property type, and price range here.
Open House Search allows you to display the option to search for open houses for the remainder of the current week, or individual upcoming weekend days (Saturday or Sunday).
Default Search State sorts search results by state if you are searching in multiple locations.
Property Display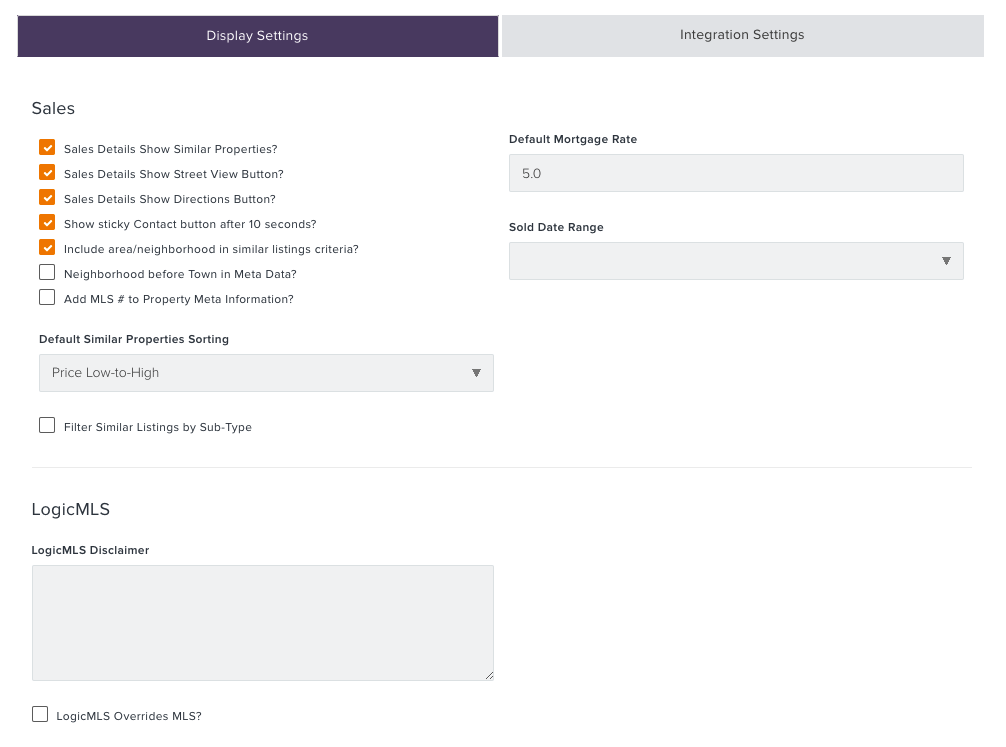 Select "Sales Details Show Similar Properties" if you wish to display a small set of similar listings on property detail pages when listings that meet similar criteria are available. Similar listings are defined as any properties in the same town as the original listings, with the same bedroom count and a price within 10% of the original listing's price.
"Default Mortgage Rate" allows you to set the default mortgage rate to the current market rate, or any rate of your choosing. This is only a default setting – users can try different rates of their own choosing when using the Mortgage Calculator tool on your website.
Tip: Tailor your default settings to your target audience; if your site is aimed at student rentals, make the default search a rentals search, with an appealing price range in a college area. If your target audience is luxury condo buyers, make the default search a sales search in an upscale urban area and choose a price range that will show more luxury properties. Make it easy for your target audience to initiate the sales cycle and you will see more users turn into qualified leads!
Zillow/Yelp/Education.com/Walkscore Settings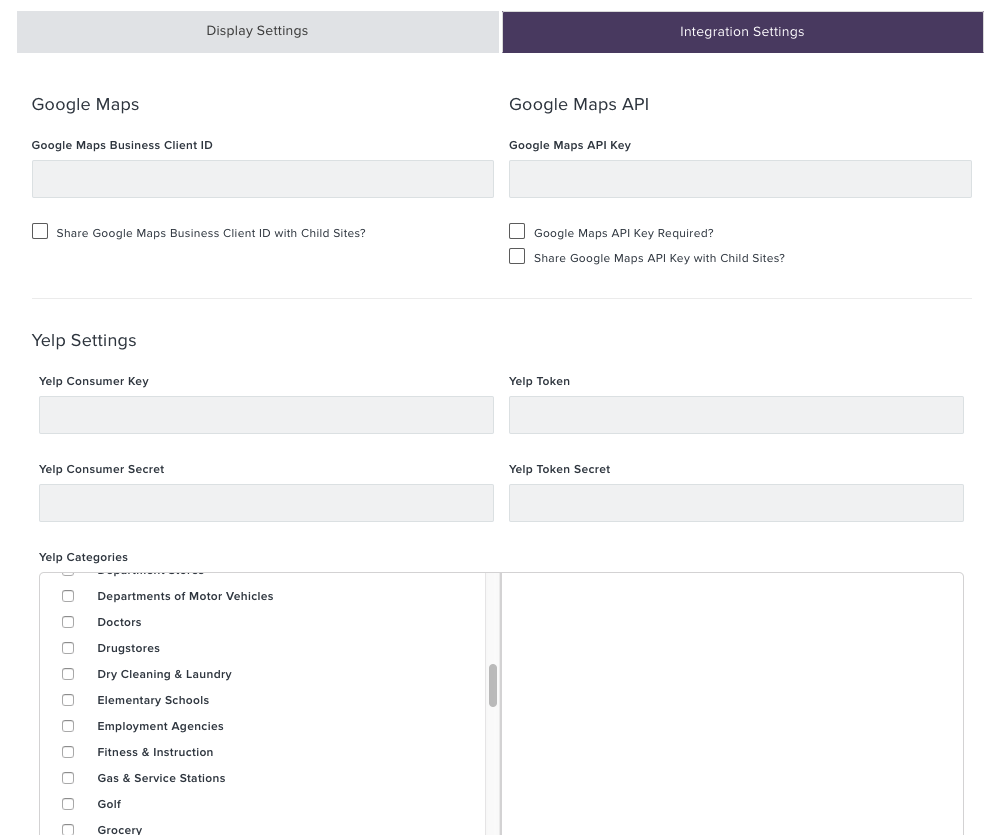 Zillow Settings
If you are signed up for Zillow property data, enter your Zillow API key in this field.
To obtain a Zillow API key, follow these steps: https://www.zillow.com/webservice/Registration.htm
You will receive your API key via email. When you receive it, enter it in the Zillow API Key field in the Settings section of your site and click "Save Settings" to display Zillow data for any applicable listings on your site.
Yelp Settings
Yelp will work on any site by default based on an API that Propertybase has integrated on the platform.
If you would like to use your own Yelp login credentials, you can enter them into the appropriate fields that we have provided.
At any time, you can select the Yelp business categories you would like to make available for search on your site. Pick as many as you want from the list provided, then click "Save Settings" to provide these categories in the Yelp tool on your site.
Education.com & Walkscore Settings
Education.com's Schoolfinder tool allows your users to view information about schools nearby any listing they are viewing. When you click the Education.com button below the property map on any listing details page, any schools within the boundary of the map will be shown. Clicking on each school's icon on the map shows detailed information about the school in question. To enable this feature, select "Enable" and then click "Save Settings".
Our Walkscore tool allows you to display mapped local business information on listing detail pages, as well as a calculated "walkability" score for the listing in question. This is useful in urban areas where many people typically walk instead of drive.
(To activate Walkscore on your site, go to: http://www.walkscore.com/professional/sign-up.php to acquire a Walkscore ID.) Simply enter this key in the Walkscore ID field on your site's settings page and check the Enable box, then click "Save Settings". *Note: Walkscore tool will not work if you have Schoolfinder or Yelp enabled.
Lead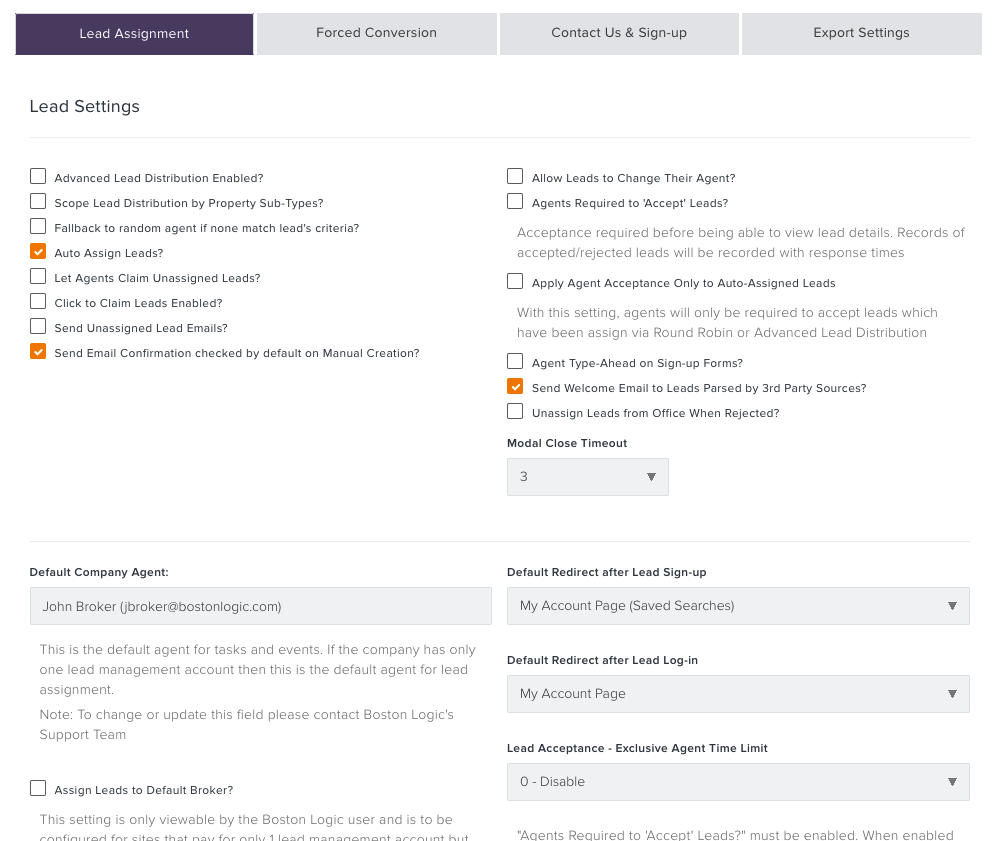 Default broker lead assignment is only potentially needed if you have only one lead management account for your brokerage site but have agents with their own Agent Sites. If you wish to have any leads gathered on your brokerage site assigned only to the broker for this site, check this box. If you want leads gathered on your brokerage site to be potentially assigned to agents with their own Agent Sites, leave this box unchecked and choose Auto-Assignment for your web leads.
Leads coming to your site can be directed to the unassigned leads pool (if you want to manually assign leads to your agents), or can be automatically assigned using the Auto Assign Leads checkbox. Auto Assign distributes leads among your agents with a round-robin system. *Auto Assign will only distribute leads to agents whose profiles have been set to accept automatically assigned leads.
The other three checkboxes here allow you to turn on or off Modal Lead Capture for Sales and Rentals search results, as well as Developments (if you are using the Developments component).
Turning on Modal Lead Capture requires a user to enter their name, email address, and optionally phone number before they can view specific property details. The user sees the Modal Lead Capture window displayed over the results of their search, which are inaccessible until the lead enters their information.
If a user revisits your site and is prompted to sign in, they will be able to do so using their existing username and password.
Tip: Using Modal Lead Capture to get email addresses from visitors to your site greatly increases the percentage of users who will become qualified leads.
After a lead is generated in the system, an automatic follow-up task is created to remind the agent to follow up with their lead. The default setting for this is to allow 24 hours until the task is considered past due; however you can modify this time as you see fit, or set to 0 if you do not wish to use this feature.
Marketing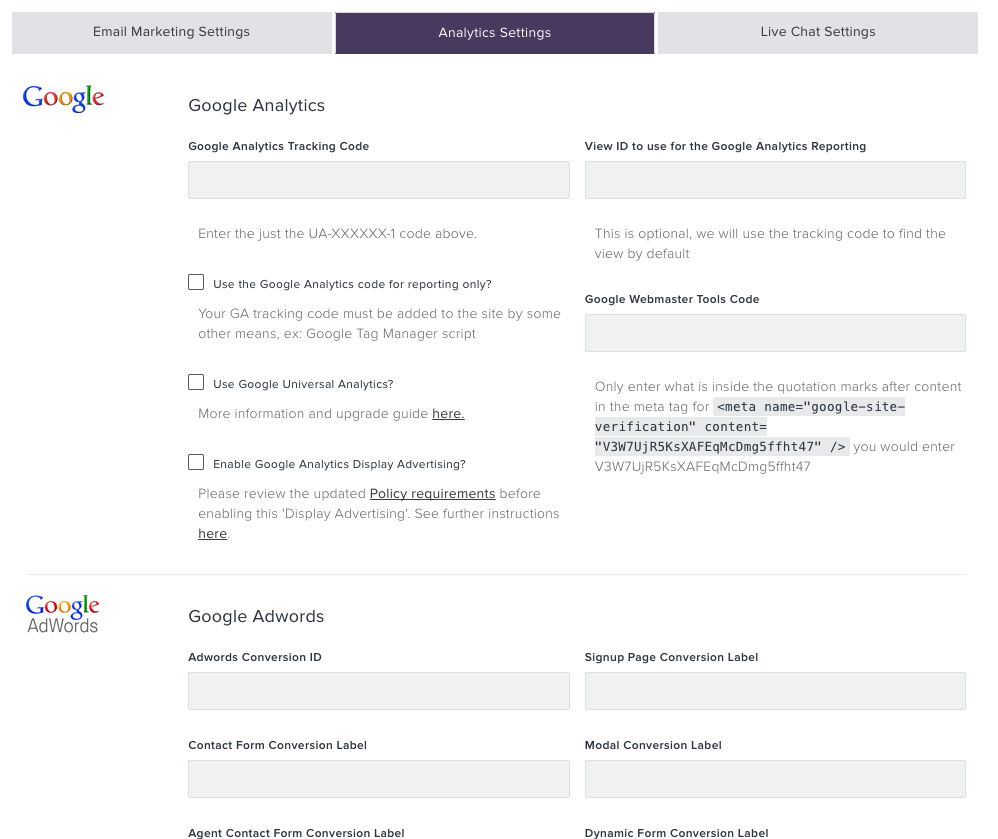 Under the Marketing Tab, you can activate Google Analytics to track overall use of your site. The process of setting up Google Analytics takes only a few minutes on your part, and Google Analytics will be operational for your site within 24 hours.
Go to the Google analytics home page, http://www.google.com/analytics/ and click "Sign Up Now" on the upper right, below the blue "access analytics" button.
Sign Up for Google analytics using any Google email address, and follow the prompts to get you started. If you do not have an existing Google email address, you can create an account for free.
Enter your web address in the "website URL" field. Name your account.

Enter your contact information.

Agree to the terms and conditions, and then hit "create new account".

Google will provide you with a series of code; find the code string that is in the parenthesis or in quotations.

It will most likely begin with "U" and look something like this: "UA-10294920-1′′

Copy the code and go to your Propertybase GO website's Settings tab

Paste the code into the text box labeled "Google Analytic Tracking Code"
Now that you have analytics installed, we recommend tracking your website progress at least once a month, by noting increases or decreases in visits or traffic. Additionally, if you want to judge the effectiveness of your marketing campaigns, such as website ads or networking events, check Google Analytics to see if your traffic has increased after the marketing event.
Important things to note:
You can view lead and web traffic reports in the "Reports" tab on your Propertybase GO website. These Site Traffic Summary & Lead Reports allow you to see granular and overall activity on your site.
You can view additional reports through http://www.google.com/analytics. Click "View Report" to visit the dashboard of your account and view your website data.
You can avoid being overwhelmed by the large amount of available information by focusing on these two major areas:
Go to the Visitors section on the top left of the page. This general overview will tell you how many people have visited your website, how much time they are spending on it, and your "Bounce Rate", or the rate at which visitors land on your site and immediately leave. You want to try to achieve the lowest bounce rate possible.

Now visit Traffic Sources. Here, you can see which Referring Sites are giving your site traffic, how many people are coming to you from Search Engines, and what keywords people are using when being directed to your site from organic searches.

An additional useful tool for tracking your website is Google Webmaster Tools. Information about this toolset is available here: http://www.google.com/webmasters/tools/. Webmaster Tools provides you with detailed reports about your pages' visibility on Google. You can see Google's overall impression of your site, diagnose problems, discover your link and query traffic, and share information about your site.

To do so, follow these easy steps:

Sign in with your Google email account, and click the "Add a Site" button – enter your URL next. If you

do not have an existing Google email address, you can create an account for free.

Verify that you own the URL in question; Google provides several simple methods of doing so. You will

need to use the "Meta Tag" option.

Copy and paste the string of code shown in italics into the Google Webmaster Tools Code field in the Settings section of your Propertybase GO site.

Save Settings in your site.

Click Verify in Google Webmaster Tools to complete installation.
Bing Webmaster Tools
This free feature allows you to obtain data on which pages of your site have been indexed, any back links or inbound links, and keyword performance in the popular Bing search engine from Microsoft.
Follow the steps below to setup Bing Webmaster Tools on your website:
To create an account, go to http://www.bing.com/toolbox/webmasters/

After signing in, select "add site"

Select Option 2: "Add meta tag to homepage"

Copy the code string within quotations

Paste this code in the Bing Webmaster Tools field in your site's Settings section.

Click "Save Settings" to finalize installation.
To view reports, you must sign into Bing Webmaster Tools (Reports are not accessible through the back end)
Email Marketing Settings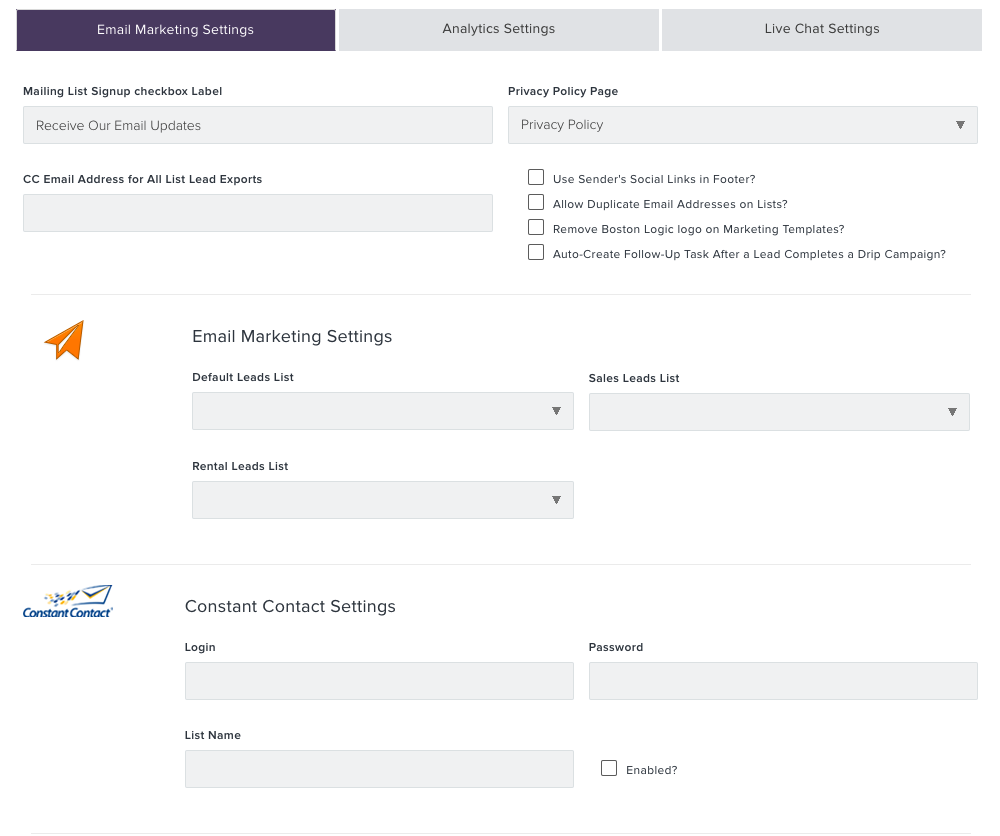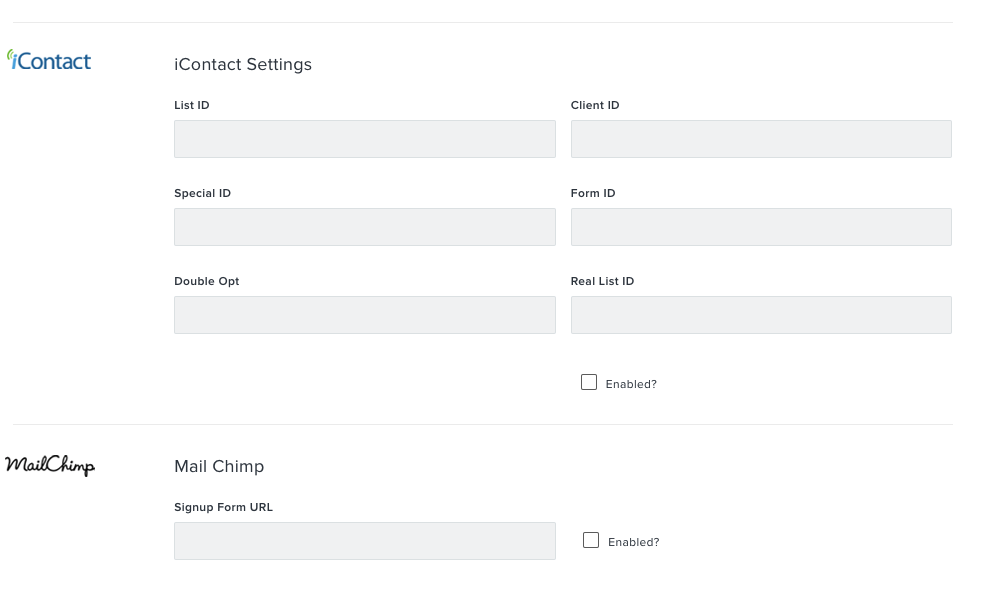 If you use a 3rd party email marketing program, you can automatically pass lead contact information into your email lists whenever leads register on your site and opt in to your email campaign.
The Propertybase GO platform is currently integrated with iContact, Constant Contact, and Mail Chimp.
To pass lead info to one of these programs, you must provide information correlating to your email program in the appropriate section and check the "Enabled" box. A privacy policy page must be created for your site in order to comply with federal law. You can create a privacy page with our CMS; follow the instructions on how to create a page in the CMS / Pages section of this guide.
After creating a privacy page, select the page from the dropdown select beneath "Privacy Policy Page" in your Email Marketing Settings.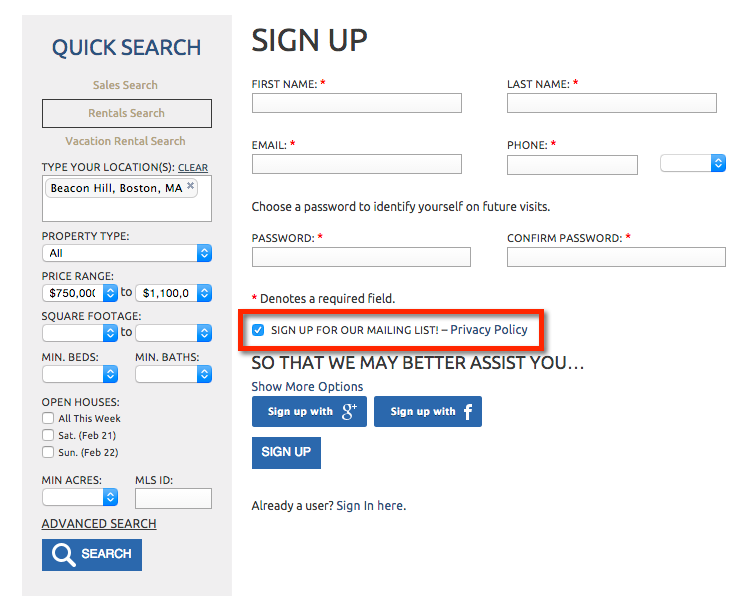 The mailing list Signup checkbox label titles the box, which leads must check on your signup page if they wish to opt into your campaign. Title the box with simple instructions such as "Check here to sign up for our mailing list; we promise not to distribute your personal information" for optimal results.
Leads that opt into your marketing campaign will automatically be added to your mailing list with the email address they used to sign up for an account on your website. To opt out of your campaign, leads must unsubscribe by following an unsubscribe link in an email sent by the system. Unsubscribe links are provided to leads who have opted into your email campaigns in every email generated to them by the Propertybase GO platform.
MLS Settings Options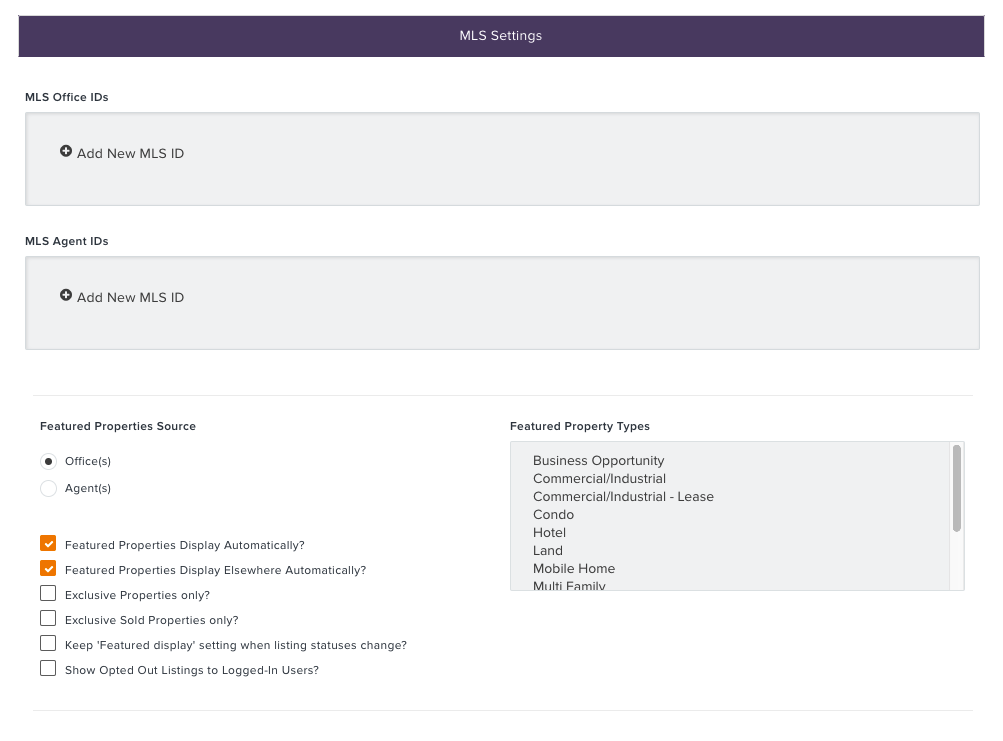 Enter any applicable office and agent MLS IDs here, and check whether your Featured Properties should be sourced from your office or from your agents. Choosing "offices" tells your site that any listings that match your office's MLS firm ID should be regarded as your exclusive listings; choosing "agents" tells your site to use the individual MLS agent IDs of yourself or your team to do the same.
ID's should be separated by a comma (ex. MA10001, MA10002) if multiple ID's apply.
To display Featured Properties automatically, check the box labeled same. Otherwise, when a property comes on the market, you will have view your "Sales Exclusives" (covered in the CMS/Sales Exclusives section of this guide) and manually choose which listings to display on your site's Featured Properties section(s).
You may choose to display any of your exclusive listings on your website. This is handled in the "Sales Exclusives" on the "Property" menu. All inactive properties are set to not display by default; you can manually override this functionality on a per listing basis if desired.
Social Media Settings

Social Media Icons can be displayed on your website in the footer, header, or in both locations. These icons dynamically link to your profile page on the corresponding social site – your users can navigate to your social media profiles with one click using these icons.
The social media sites the Propertybase GO platform is integrated with are:
Facebook

Twitter

LinkedIn

Google +

Yelp

YouTube

Foursquare

Pinterest

Instagram

Tumblr

Vimeo

To create a social media icon/link, copy the URL of your profile on the appropriate social media site and paste it into the corresponding URL field. At the top of this section, use the provided radio buttons to select whether the icons should appear in the footer, header, or in both places. Click "Save Settings" to display these icons on the front end of your website. If you do not enter any URLs in this section, no icons will be shown.
Feed and SSO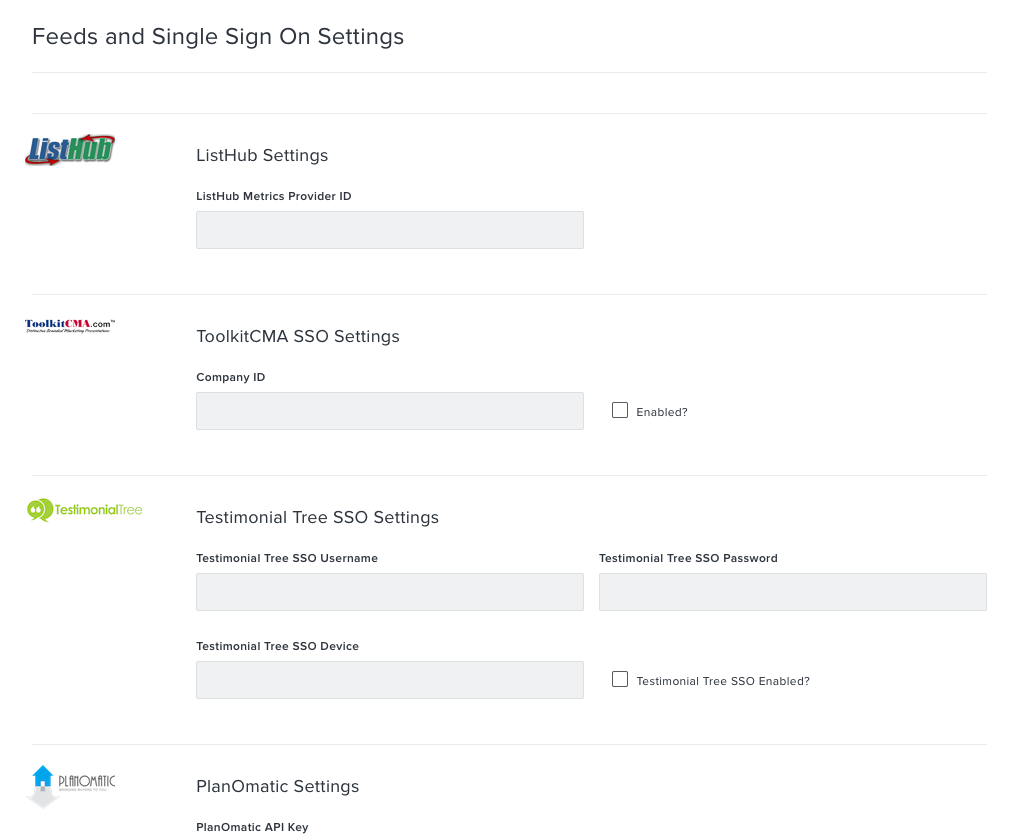 ToolKit CMA is a web-based software program (provided by a third party) that enables residential real estate professionals to quickly and easily produce proposals, presentations with property images, CMAs, and property flyers for all listing and selling occasions. If your company uses ToolKit CMA, simply check the Enabled box, enter your company ID, and click "Save Settings" to activate. A quick link will now appear on your dashboard; click this link to access your ToolKit CMA account without a need to log in. Your site automatically passes a unified login token to Toolkit CMA to give you access to your account.
XpressDocs is a 3rd party service that allows real estate professionals to produce high-quality printed marketing materials in an efficient, economical, and timely manner. If your company uses XpressDocs, simply check the Enabled box, enter your company ID, and click "Save Settings" to activate. A quick link will now appear on your dashboard; click this link to access your XpressDocs account without a need to log in. Your site automatically passes a unified login token to XpressDocs to give you access to your account.
Area Profiles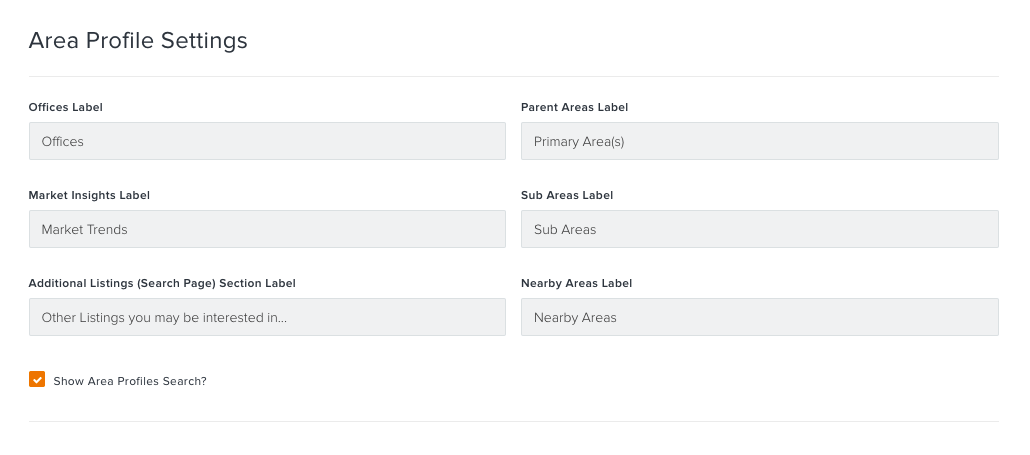 You're able to configure the label settings for Area Profile pages. These labels will populate on the actual area pages on the front end.
Area Profiles are explained in depth here
Listing Layout Settings
Choosing the format of how listings will appear on several locations on the site (Search Result pages, Office pages, Market Insight, Feature Listing, Agent Pages, etc.)
The options for layout is Grid and List.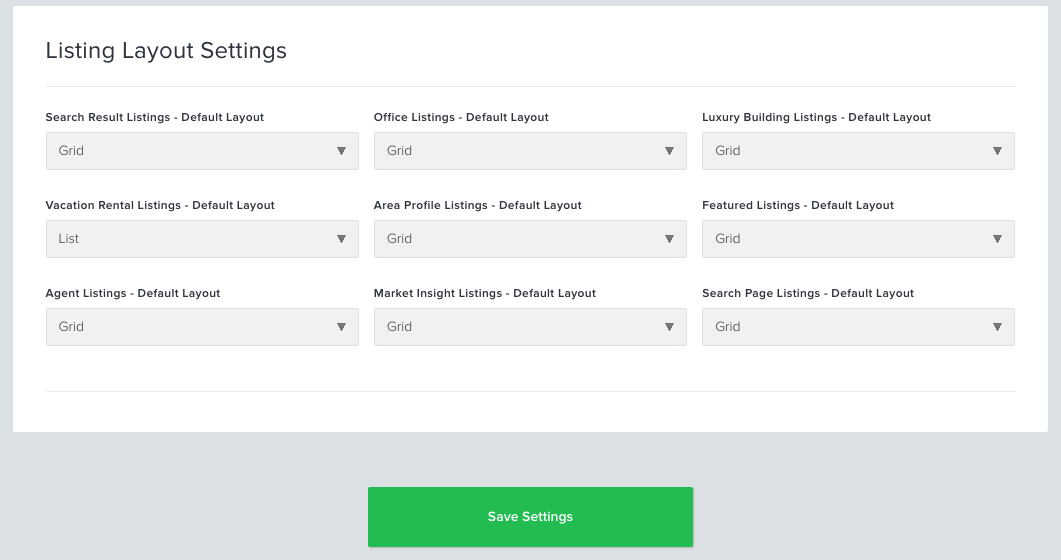 Blog posts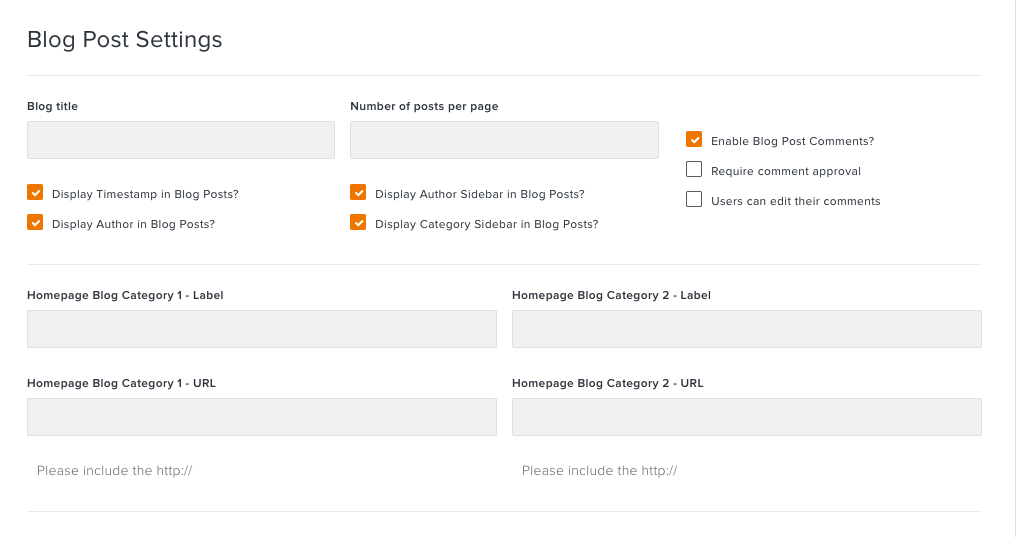 Blog post settings allows admins/brokers to set up Title of Blog and the default number of posts per page. Display settings are also available for configuration.
At the bottom, the Homepage Blog Category allows two blog categories to populate on the front end homepage.

Label the Blog Category
Enter the URL of the blog posts.
Once done, Save Settings and the blog callouts will appear at the bottom of your homepage. Website Translations
You are able to select language options for the Translation Widget on your front end. The location of the bar can be chosen at the top of the page. You can have it showing on the Footer, Header, Both or None.
After the Location is the Language Options. Simply click Add on the language you want to add, remove the ones you don't want or reorder by holding and dragging the reorder button > Save Settings once done.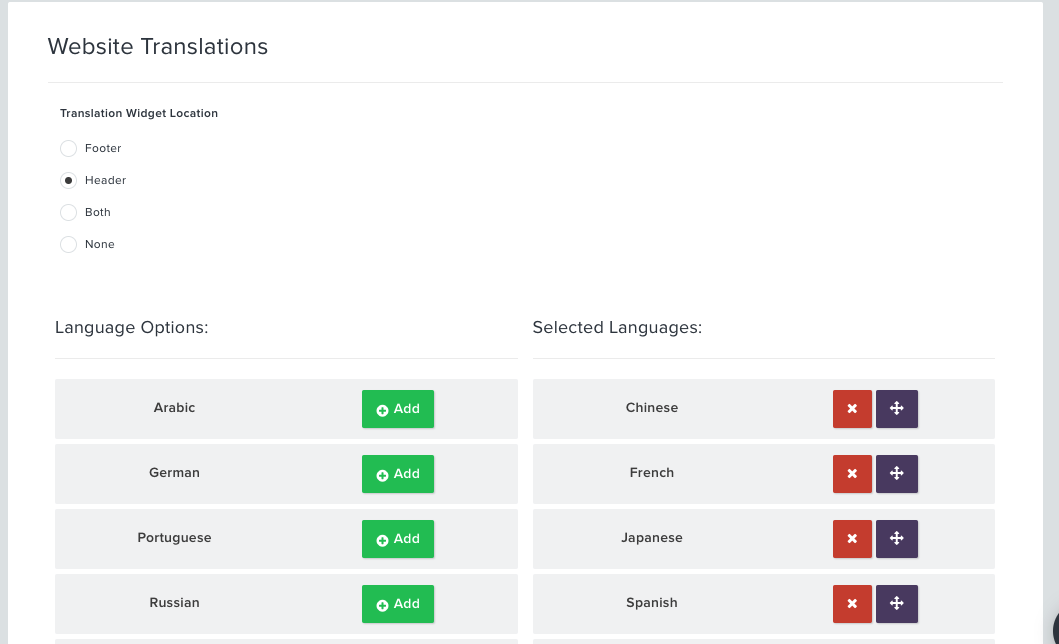 Market Insights


This tab allows access to the Display Settings, Defaults Settings and MLS Settings for Market Insight Reports.


Display Settings - choosing primary insights, default chart range, market insight redirect page, chart settings, etc.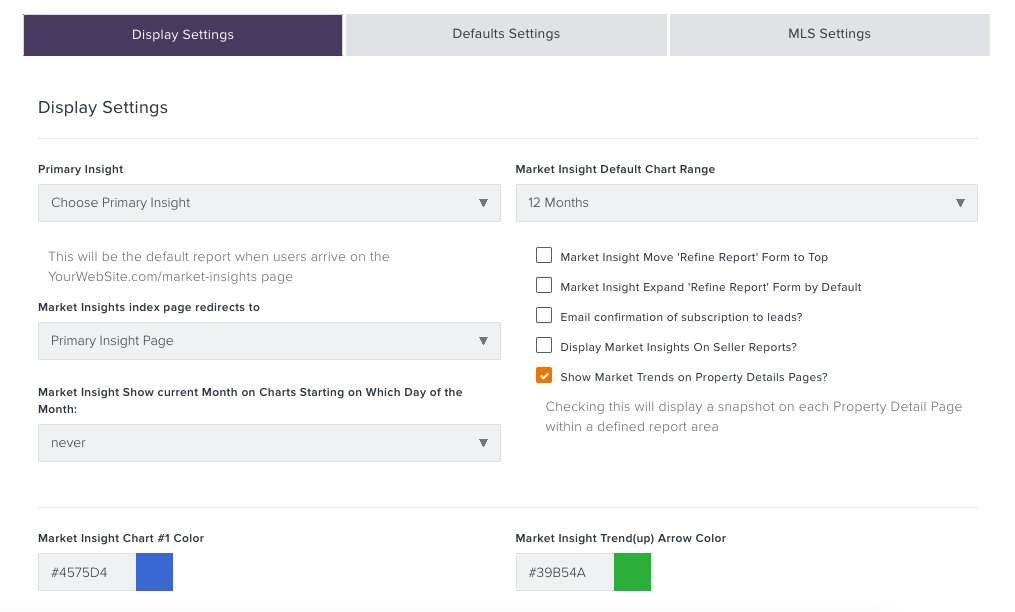 Default Settings - Default property type, frequency, price range, bed/bath count

MLS Settings - select the MLSs and Data type you would like to pull information from for the market insights.

Market Quarter Settings - enter the default text for the market quarter email. This will appear if the intro text and analysis are both blank.






Page Wizard




This setting allows you to manage the configurations for Page Wizard. Click here to view how to build Page Wizards.

Allow File Uploads on Child Site - an agent on his/her own agent can upload their own photos instead of using the default ones that admins posted.
Auto-generate Menu Item on Publish - menu item will be created for the page wizard upon it being published.

Mobile Homepage - Legacy themes only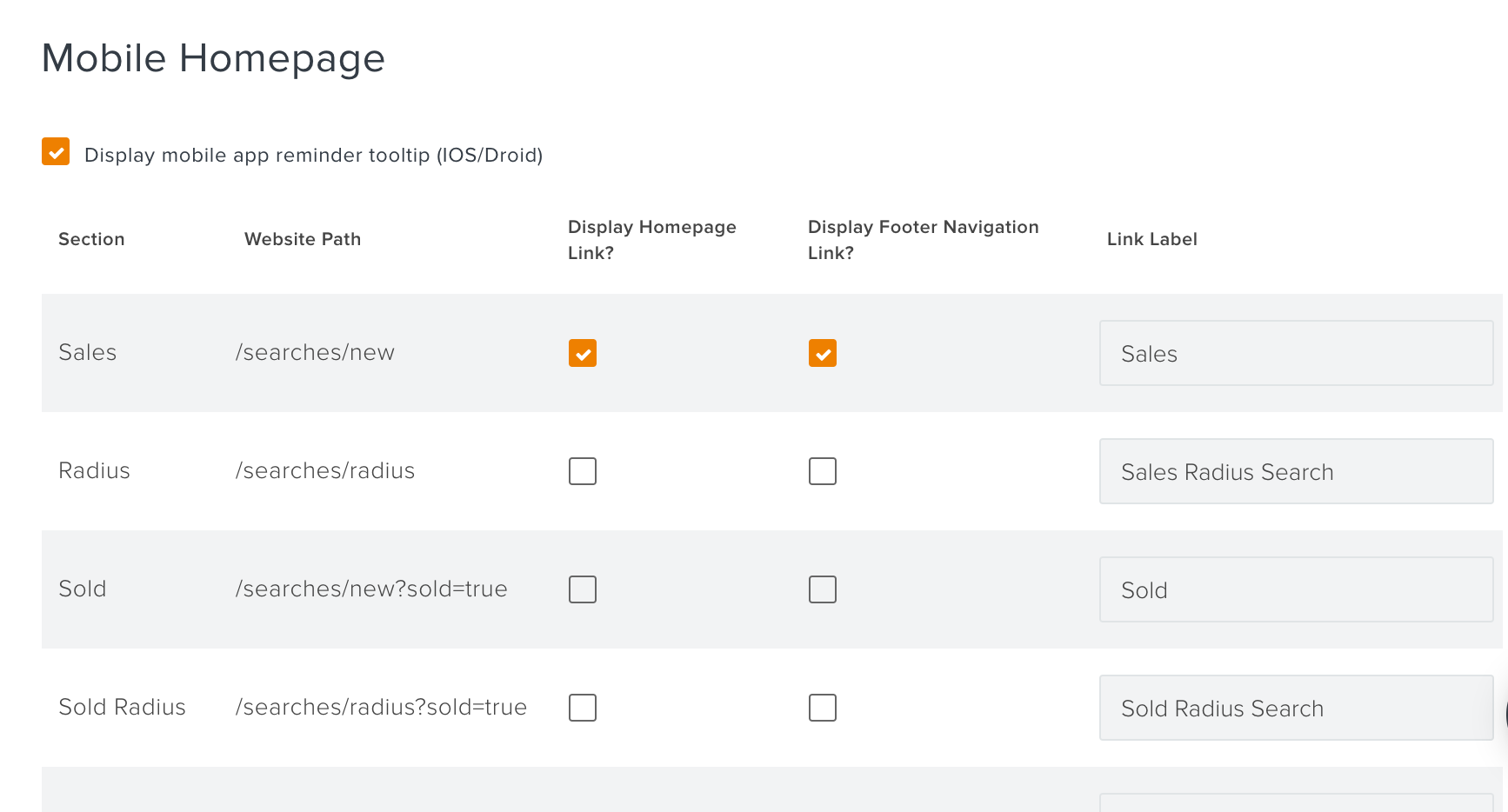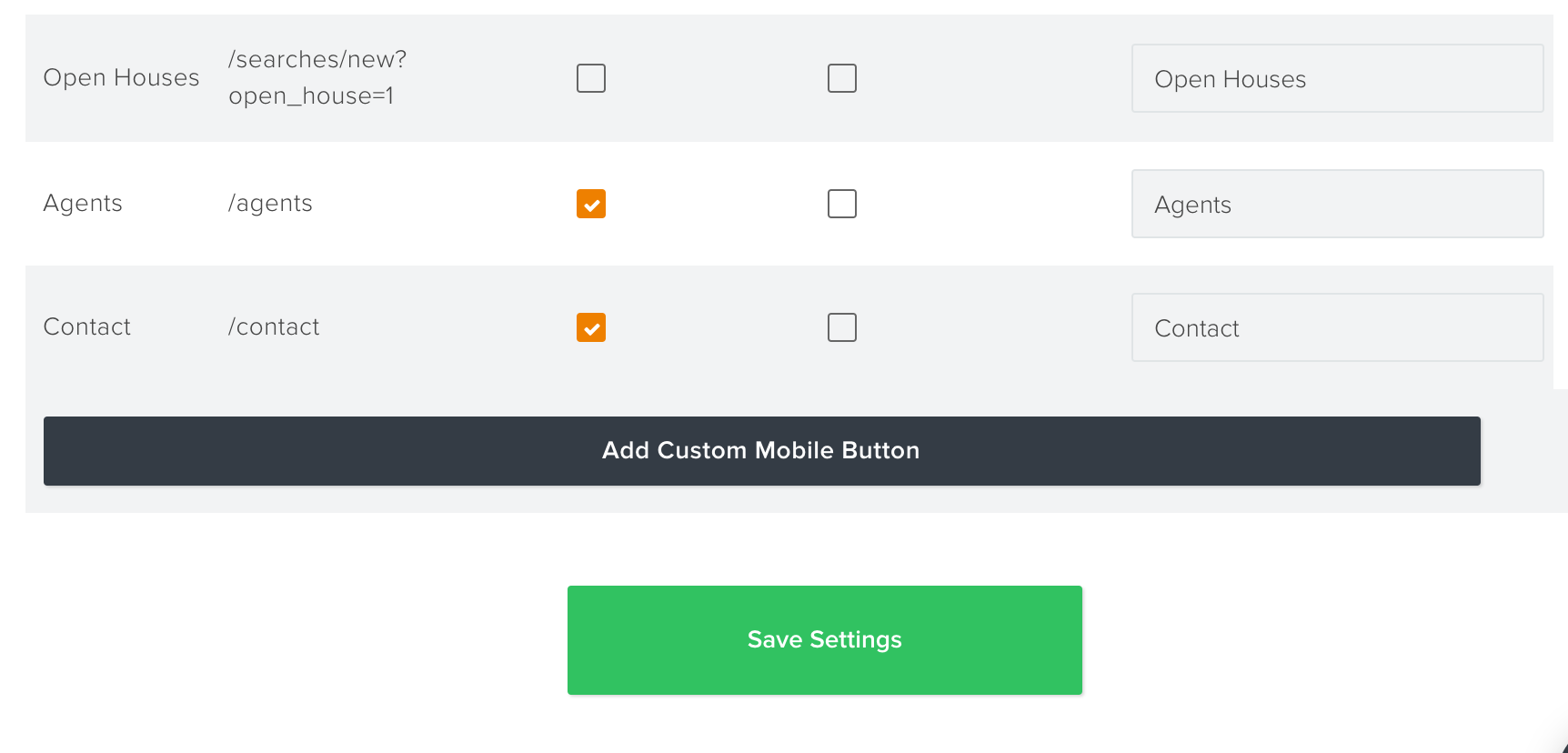 This is where you can manage the links on your Mobile Optimized Homepage
You have the ability choose which links will show on your mobile site homepage. You can also specify custom labels for the links.

To access these settings in the Dashboard: Admin>Settings>Configuration>Mobile Homepage
Options are: Sales Search, Rentals Search, Commercial Search, Vacation Rentals Search, Sold Search Page (advanced search with Sold selected), Luxury Buildings List, Developments List, Subdivisions List, Contact Us,
Agents List
Also, you can choose which of these links will be added to the bottom row of links (first 3 will be used
You will only see the options to which you have access.