Texting Features in CRM GO Next Gen [Next Gen] Follow
Summary
We are delighted to announce a new step forward in messaging from Propertybase GO! In our Propertybase GO CRM, we have added a new Texting features, some of which the old components were noted as SMS.
Now you can send links properties, converse, and create both blast and drip campaigns via text!
Please Note: That to utilize this feature, Agents will need to have Contact Management turned on and a cell phone number present. Additionally, phone numbers are assigned to match the Agent area code if possible. If this is not possible, the area code of the brokerage will be used. At this time, we are not able to bring in numbers from other services (personal cell phones).
Step by Step
Sending a Property:
admin > property of choice > 3 circle menu on property card > text to contact
Now you can quickly send properties to client by just clicking and sending directly to their phone! When a property is sent in this method, the text will come from the Agent's assigned phone number through our system. However, upon response, client messages will be sent back to the Agents personal or primary number.
1. Go to Property card and click 3 circle menu: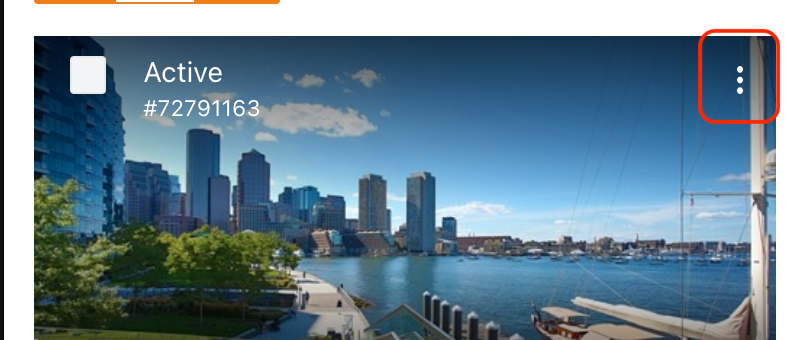 2. Select "Text Listing to Contact":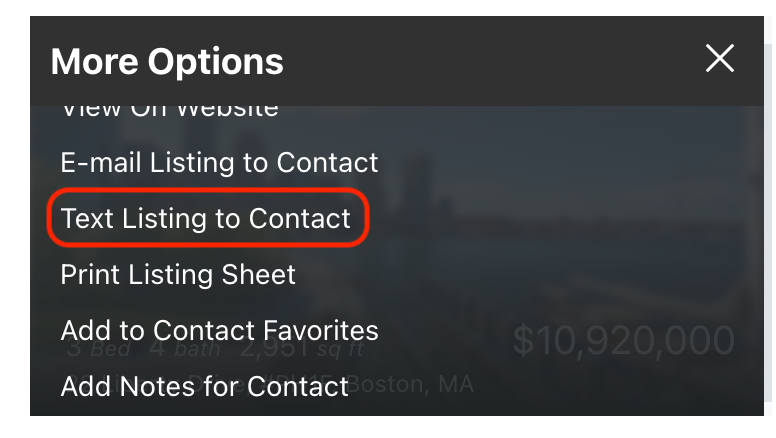 3. Fill out Contact, will auto complete and customize text message, if desired: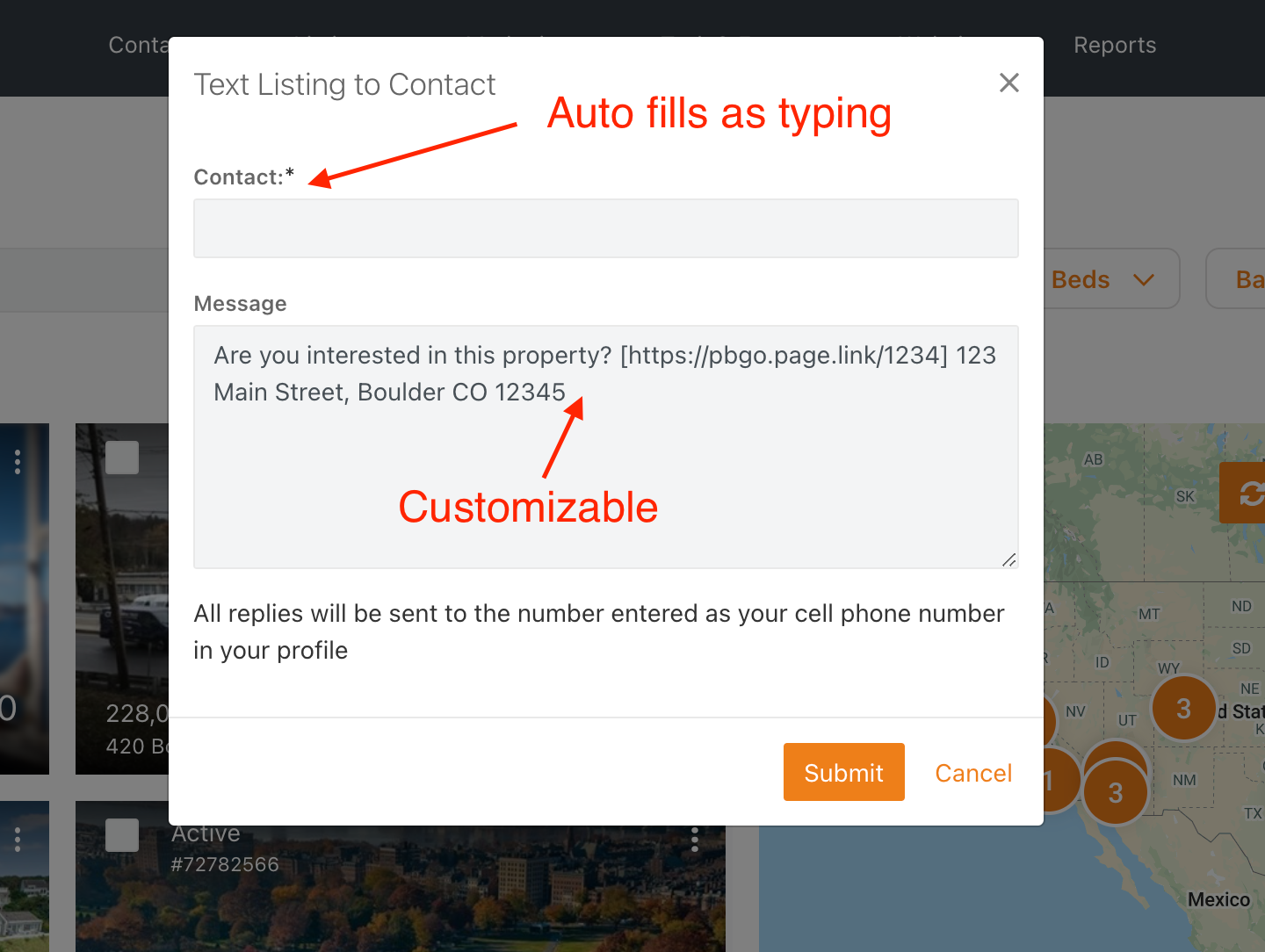 Text Message Conversations:
admin > profile of choice > quick send menu -OR- messaging tab
For the Quick Send function, usage is the same but naming has changed: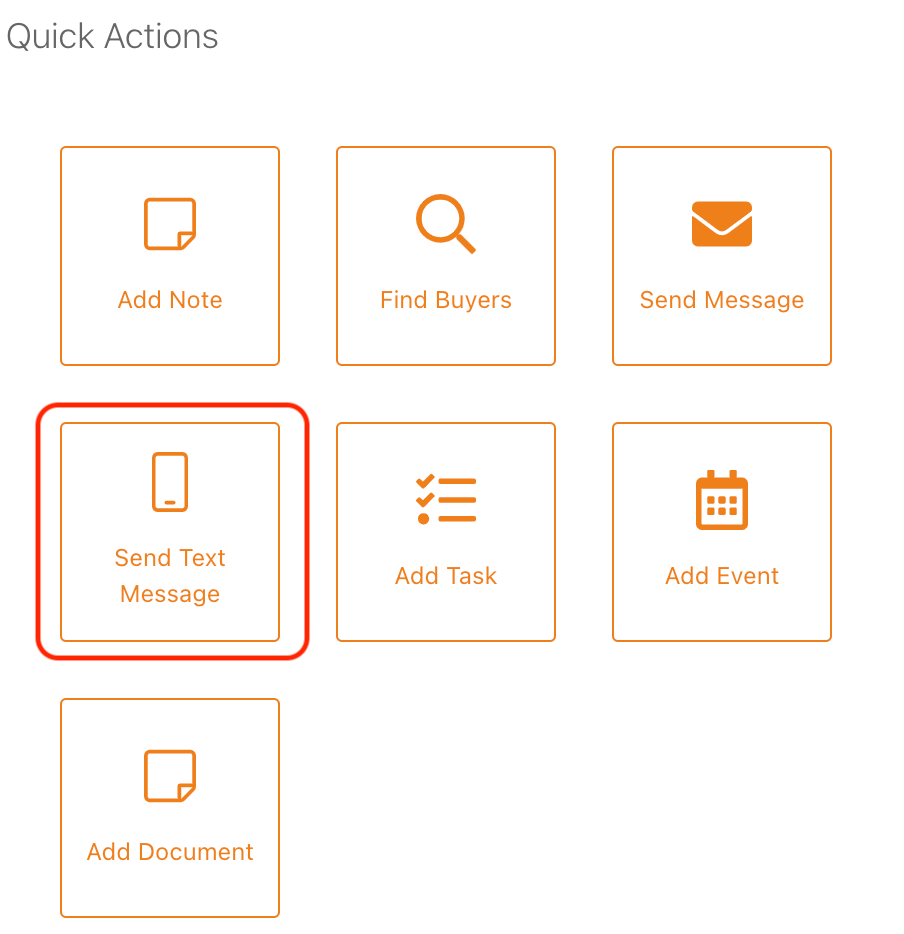 To review Text Messages or send new messages, Go to the Message Tab:


Text Blasts Campaigns:
Send text messages to a full list of clients!
admin > marketing tab > create text blast button
1. Go to the Marketing Tab:
2. Go to "Create Text Blast"


3. Fill out form of Blast Name, Description, Who this is being designed for, and the body of the text:
(There are plenty of options under "Insert User Token", such as User Name or even Calendar Date, to make your text relevant in different circumstances)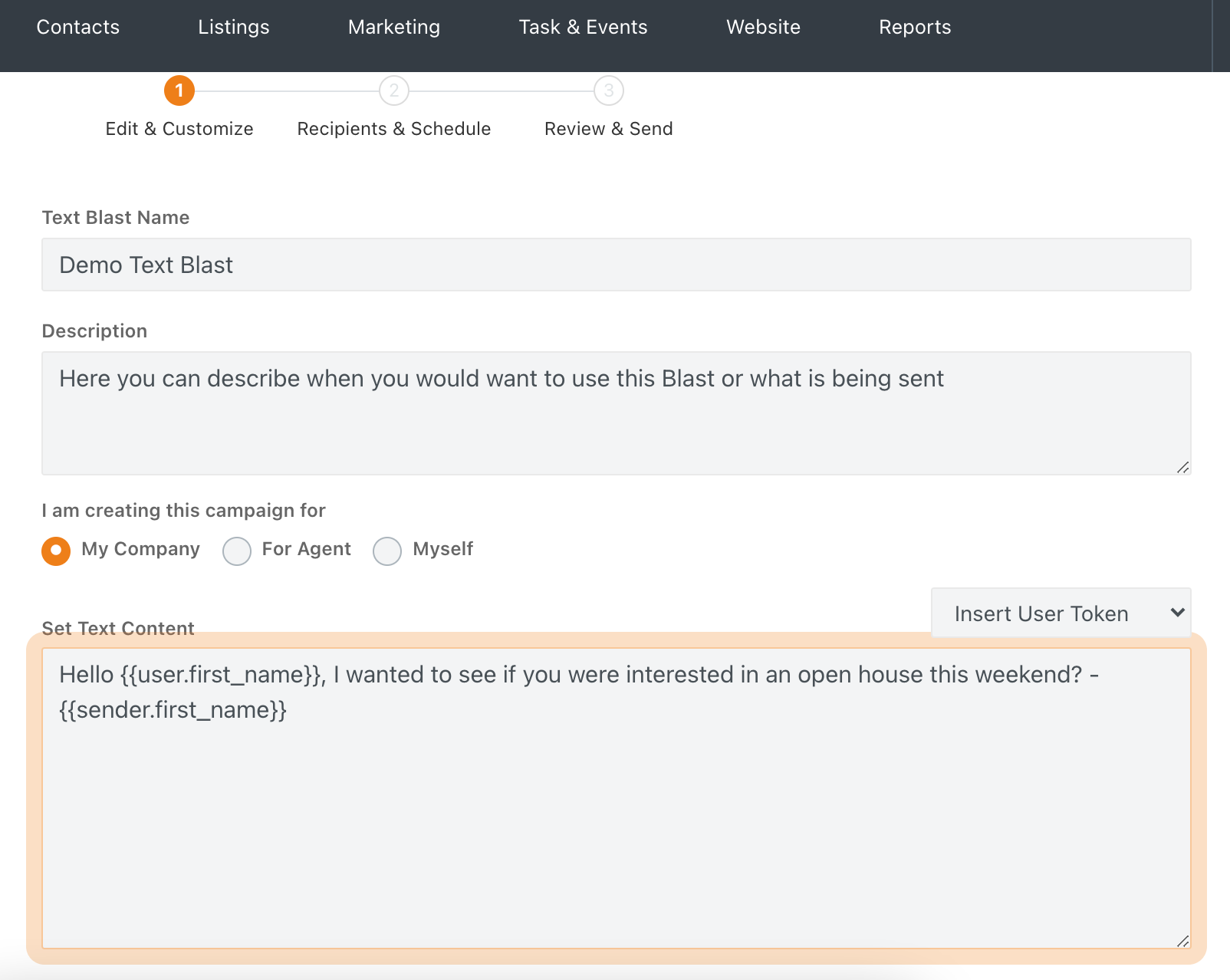 4. Select lists for this text to be sent to:
(This works in the same fashion as our eBlast and Drip Campaign list selection)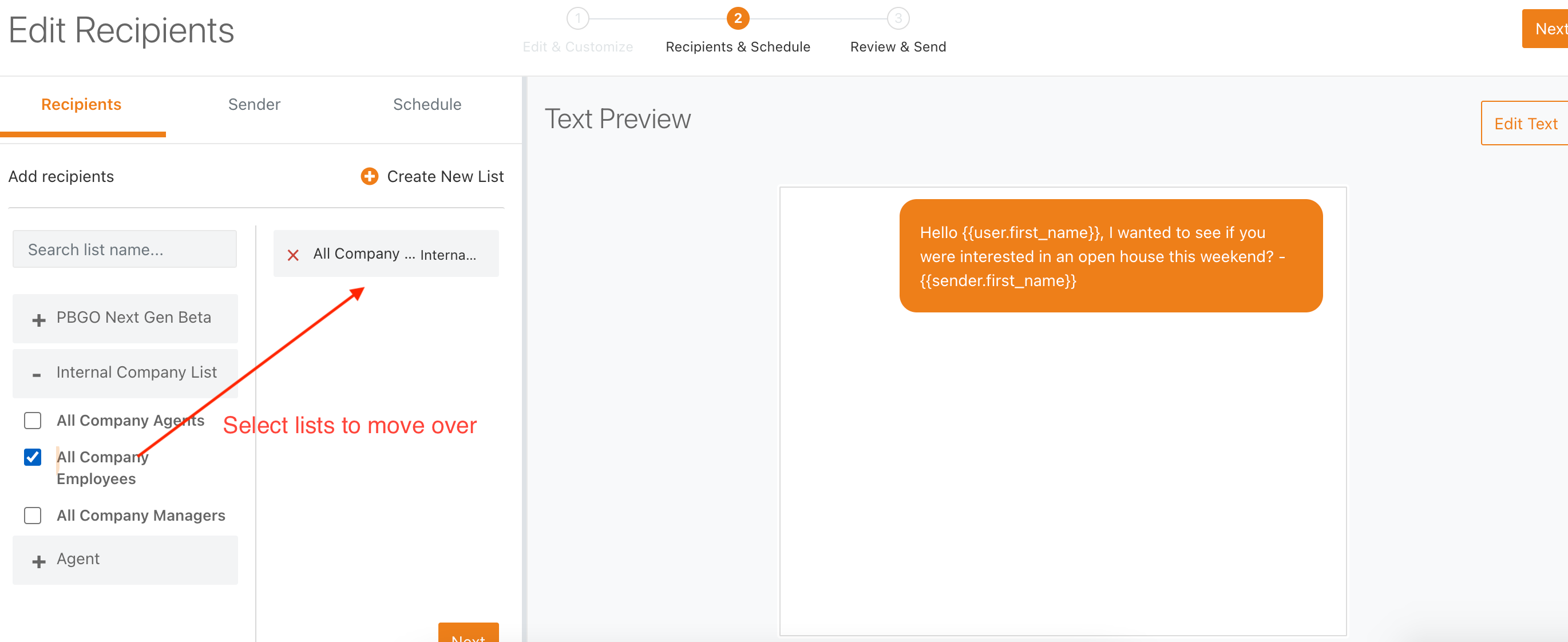 5. Check out your work so far and get those text on their way!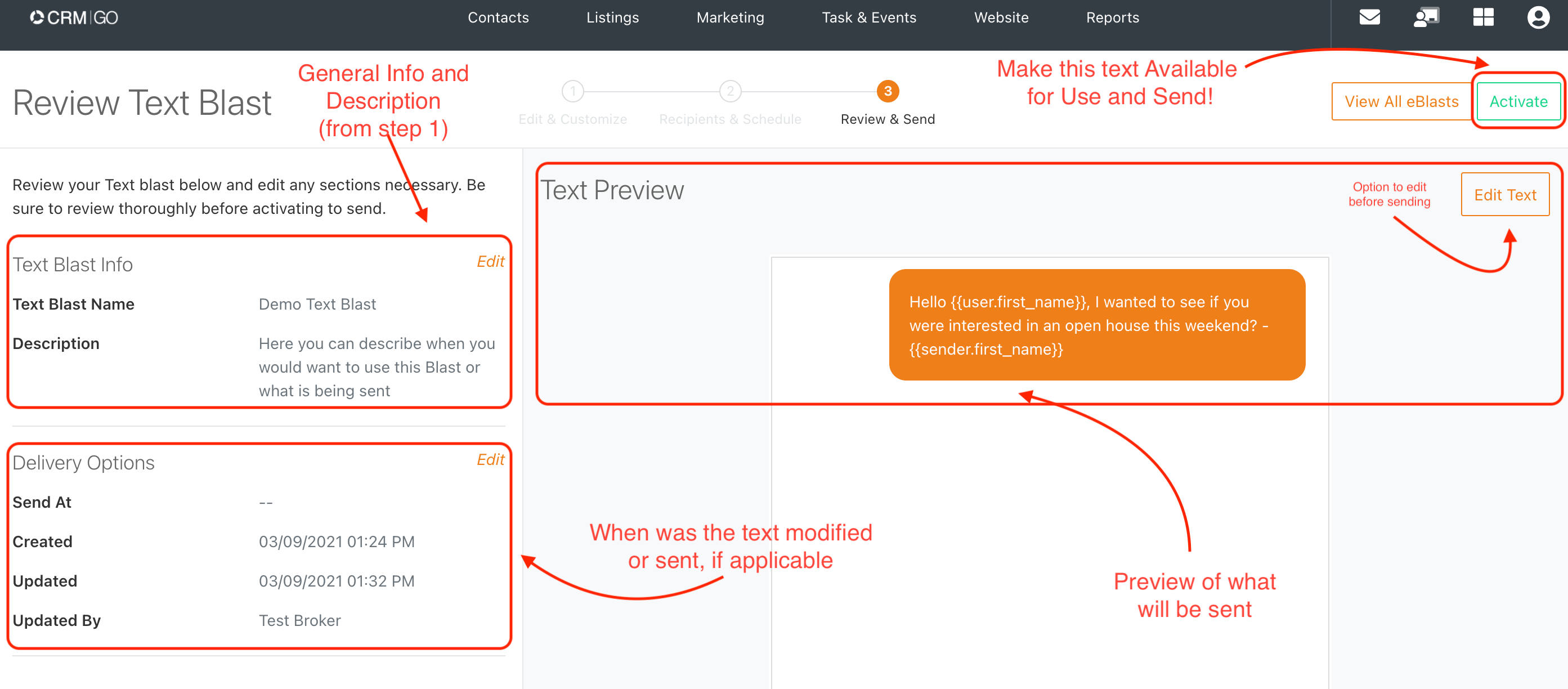 Text Drip Campaigns:
Add text messages only or mix email and text messages into one drip campaign!
1. Go to the Marketing Tab:

2. Go to Drip Campaigns:

3. Set up the beginning of the Drip campaign with a description and who it is for: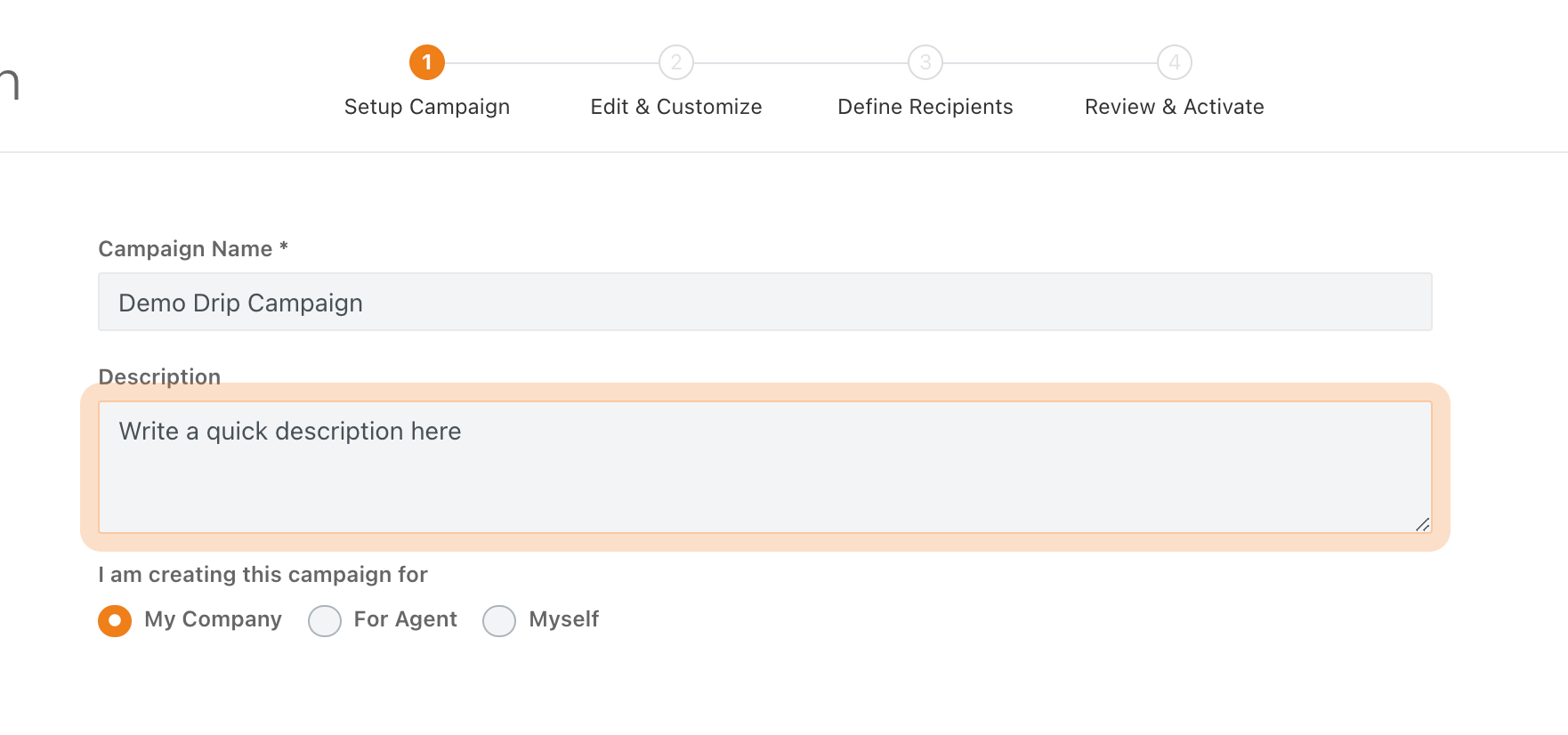 4. Choose the option you wish to add. This is a Drip Campaign, so you will be able to add multiple of each if desired: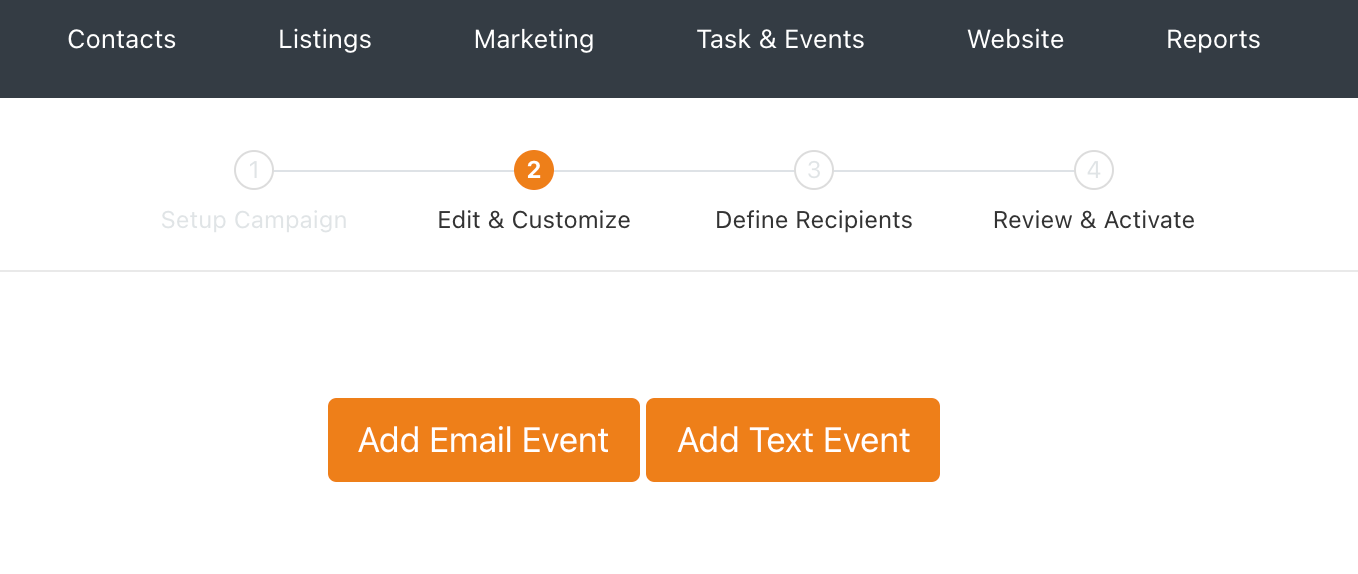 5. Fill out fields and enter text to be sent: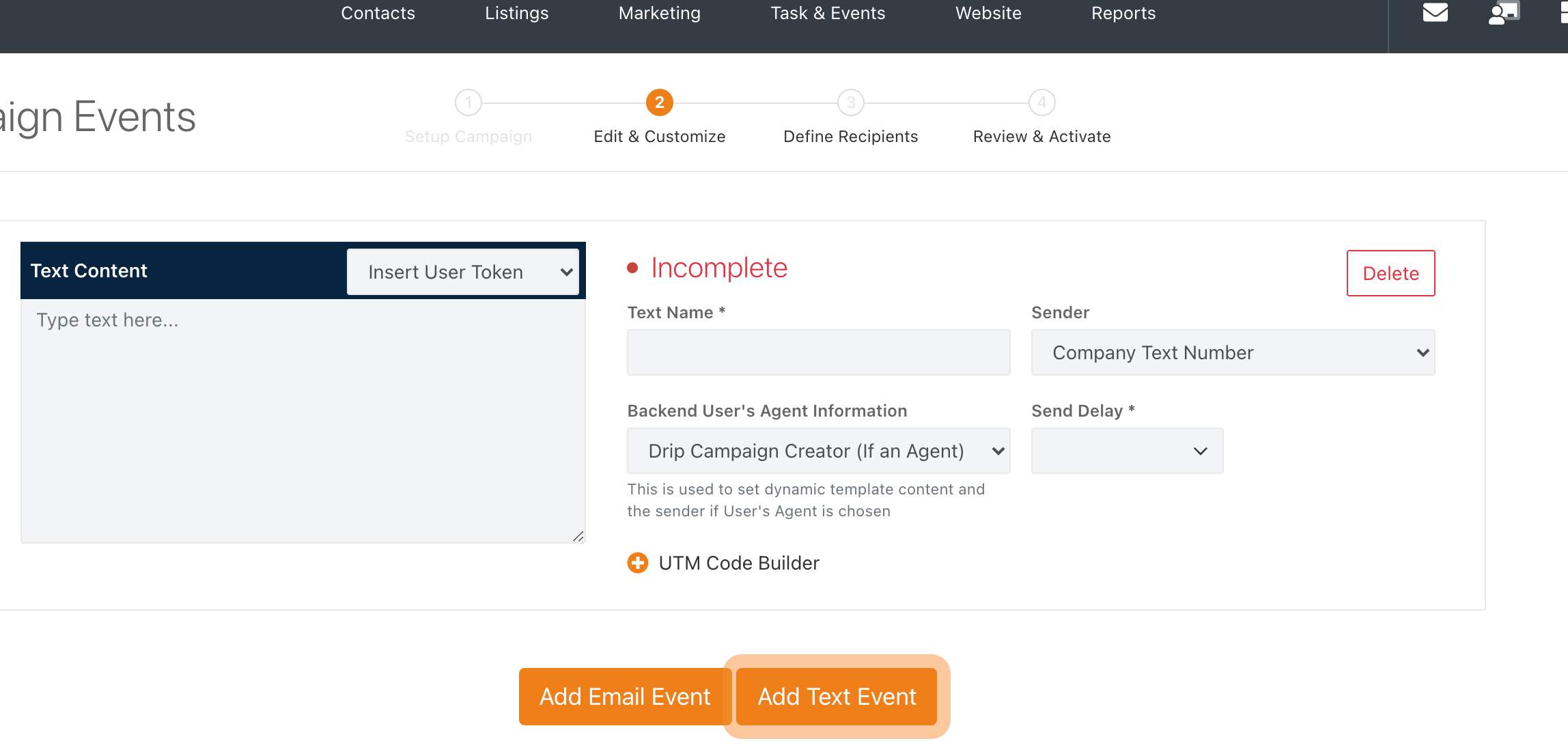 6. Add recipients, same as Text Blast: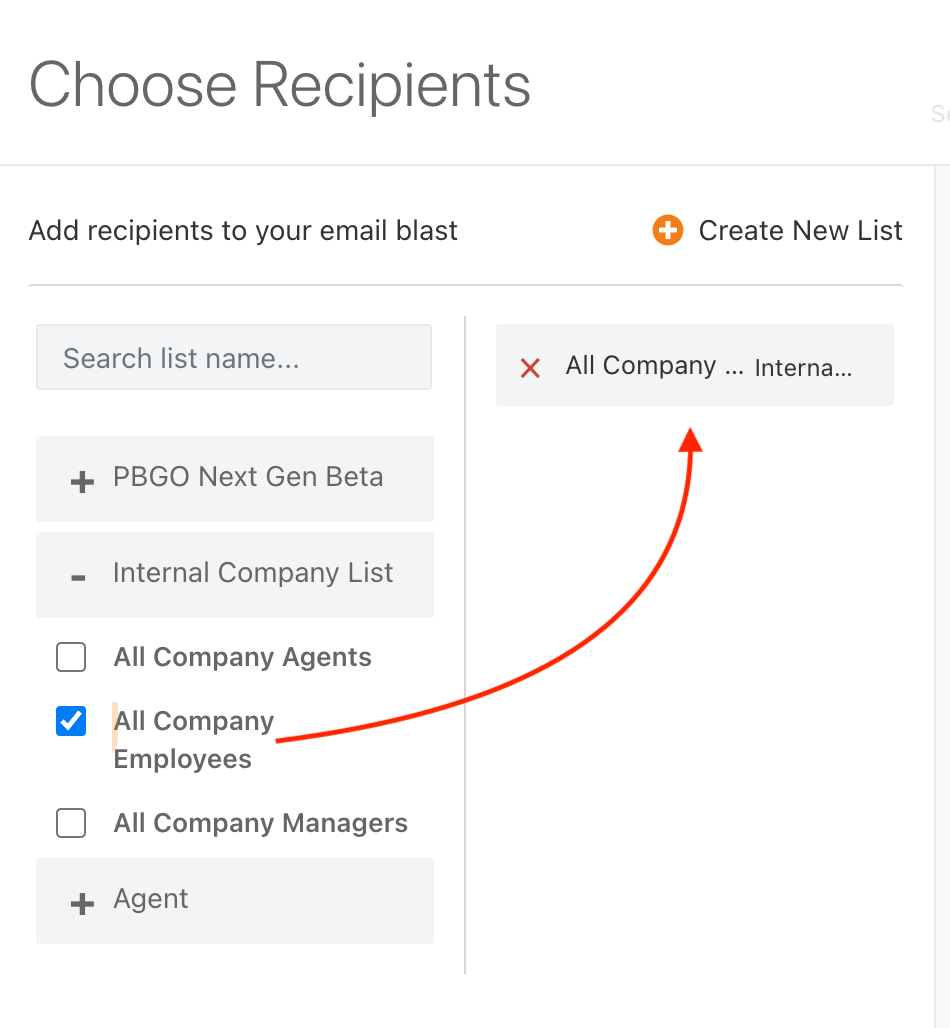 7. Review and Activate if ready!

FAQ:

Q: Are there guidelines or stipulations on text messages?

A: Yes, there are. We have an additional article that we recommend here

Q: Do drip campaign text messages appear in the two-way Text dialogue on the contact automatically?
A: Yes, all texts sent to the contact (Property Alerts from Saved Searches, Action Plan Messages, Drip Campaign Messages, Text Blasts and Texting a Property to a Lead) appear in the Text Message thread with the contact so that when the contact replies there is context for the agent in that thread for the reply.
How does this differ for agents?
Agents and Brokers will both have access to these options, however Brokers will be able to design these text message layouts for blasts for all other Agents or a particular Agent to use.
Want to see more? We have a video for you!