Email Marketing in Next Generation Follow
Summary
Email marketing in Propertybase GO CRM has never been easier! We have set up two different configurations, Drip and Email Blast, to ensure that your clients will get the message.
Major Email Marketing Updates:
Streamlined workflow process. We've removed Layouts entirely (any old layouts created have been saved as "email content"/templates) and users can now update an email template in-line.

You can build a marketing list "on the fly" or within the email campaign creation process vs. having one pre-identified

Each Next Gen account will also come with default content

Three drip campaigns (more will be added!): Welcome Series - buyers, Welcome Series - sellers and a Cold Buyer drip + pre-configured & associated lists
This makes the PBGO CRM much more valuable right out of the box. Each of the campaigns will be activated by default, so an agent/user won't have to take any additional steps to take advantage of these best-practice nurture campaigns
Step by Step
Prior to starting work on your Eblast or Drip campaign, you must generate a Marketing List (or several!). Not sure how that works? Check out this article!
General Workflow (eblast):
admin > email marketing > create eblast
"Create Blast"



Select an existing template or start from scratch



Name your eBlast, if starting from scratch, so that we can save progress if you want to come back to it later.




Edit and customize your email with various elements (title, text, etc.). These are all the same, with the exception of one new category: Content Blocks

(To view all categories with definitions, please click here)

Content Blocks are pre-designed layouts with images and text that give users greater design choices

Within each individual element, you can also adjust the padding (defaults to 15px top and bottom) and add a background color

For listings specifically, a user can adjust the font sizes for each component: address, features, description and agent information



Step 3 is where you'll select Recipients, sender information and scheduling.

When selecting Recipients, you have two options: a pre-existing list or "Create a List" in-line.
Create a List



Add singular contacts or agents via type-ahead

Create a smart list that will be accessible for future email campaigns

Import contacts via .csv or Google import



On the second tab, you'll select sender information and add utm tracking information






And finally, regarding scheduling, you'll have three options: immediately, specific date/time, send on anniversary

If you select "Specific Data/Time", you can also opt to make it a recurring email and a specified timeline (i.e. monthly for 3 months or yearly indefinitely)

If you select "Send on Anniversary", users can select a specific trigger (i.e. birthday, closing date), plus specific a preferred timeline (ex: @ 9am, every year, for the next 5 years)

Step 3 is where you'll select recipients, pick a "sender" and schedule the email



The final step is "Review & Send" or Activate. This page will give users an overview of the template for a final editing review, plus outlines details for the eblast, including the subject line and delivery options chosen.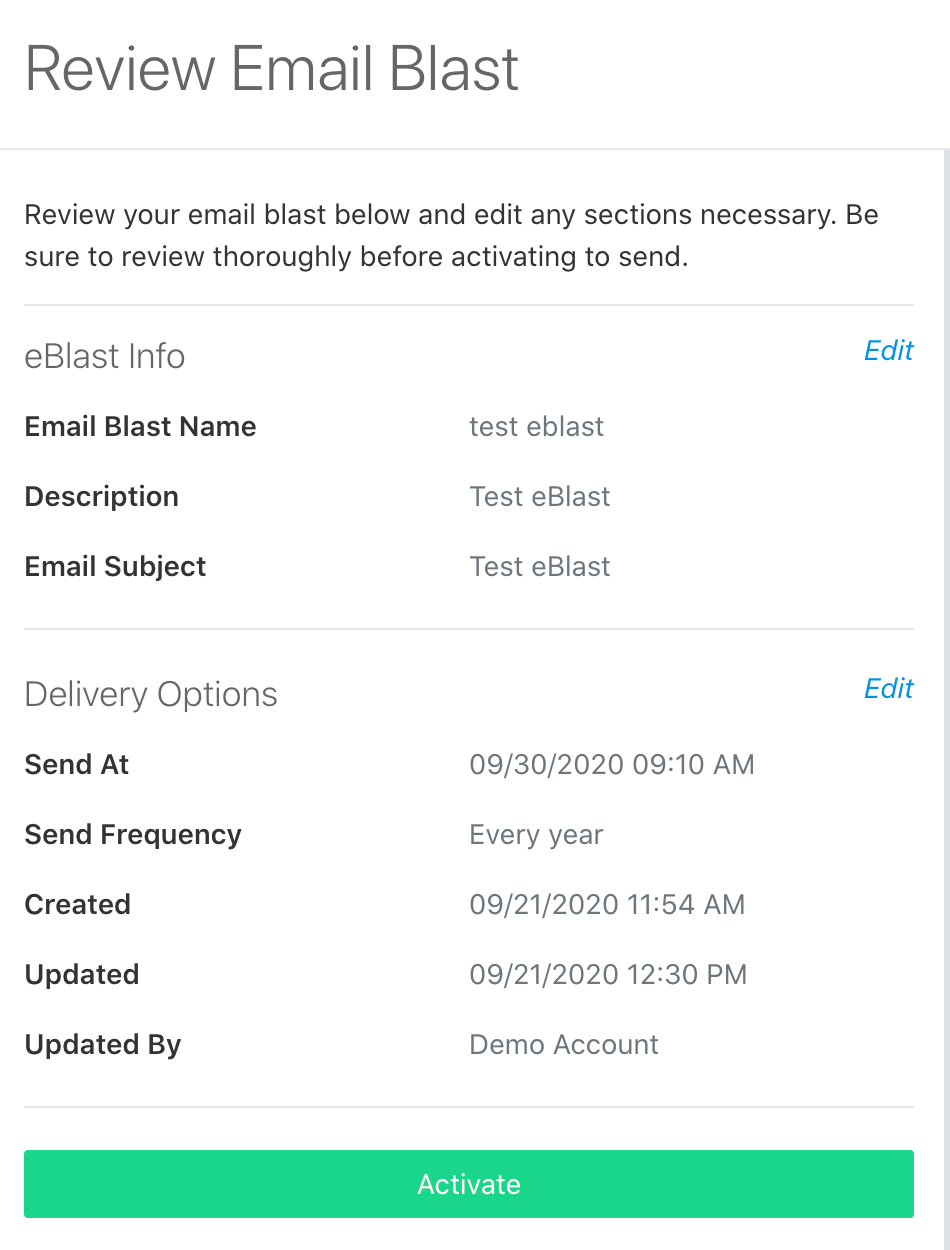 General Workflow (drip campaign)

admin > email marketing > create drip campaign



The workflow is actually the same as outlined for the eblast, but of course, users will add several email events in Step 2



Scheduling for each email event is also coordinated in Step 2 (vs. Step 3 for an eBlast)




AFTER a campaign has been activated and has begun collecting data, users can review campaign data and recipients.
Delivery statistics will be shared on a per email basis and for the campaign holistically
Testing Your Campaign
Set up your campaign, but not quite sure it is correct?
You can test your campaigns by following this article here.
Definitions/Context
For a full list on content and layout definitions, please see the article linked here.
FAQ
Q: Can I create these ahead of time?
A: Yes! Both Drip and eBlast Campaigns can be created and left as draft for the appropriate time.
Q: Can I set up a demo prior to sending this to my clients?
A: Yes, please see the above section Testing Your Campaign
How does this differ for agents?
Admin, Broker, and Agents will all have the ability to use and view Marketing Campaigns. Admin and Broker level users will be able to generate campaigns for the entire brokerage and Agents will have access to these shared campaigns as well as their own they create.