Dedicated Property Pages Follow
Summary:
Propertybase is thrilled to announce the latest update to Propertybase GO clients using our Website Builder (formerly known as SuperTheme). Whether you are on an older version or next-generation Propertybase GO account, you can now effortlessly create Dedicated Property Pages for listings. By creating these pages, you can encourage buyers to focus on a particular Exclusive Listing by creating a standalone dedicated property page for lead capture and marketing.
Step by Step:
admin > property search > choose an exclusive listing > three dot menu > enhance exclusive listing
[If you're using our legacy version, visit a specific property page > click Actions button on the top right > then click Edit Sales Exclusive]
1. Starting on the Admin page, go to listings:

2. Search the listing you are looking to create a Dedicated Property Page for.
3. On the Property Card, select the "three dots" menu: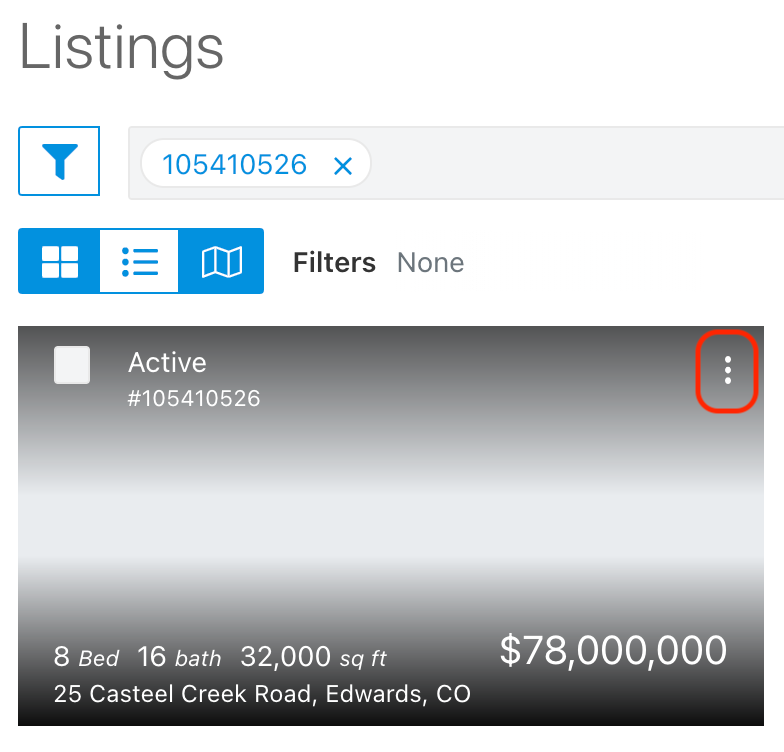 4. Select "Enhance Exclusive Listing":

5. Within the Enhancement options, select "Create a Dedicated Property Page"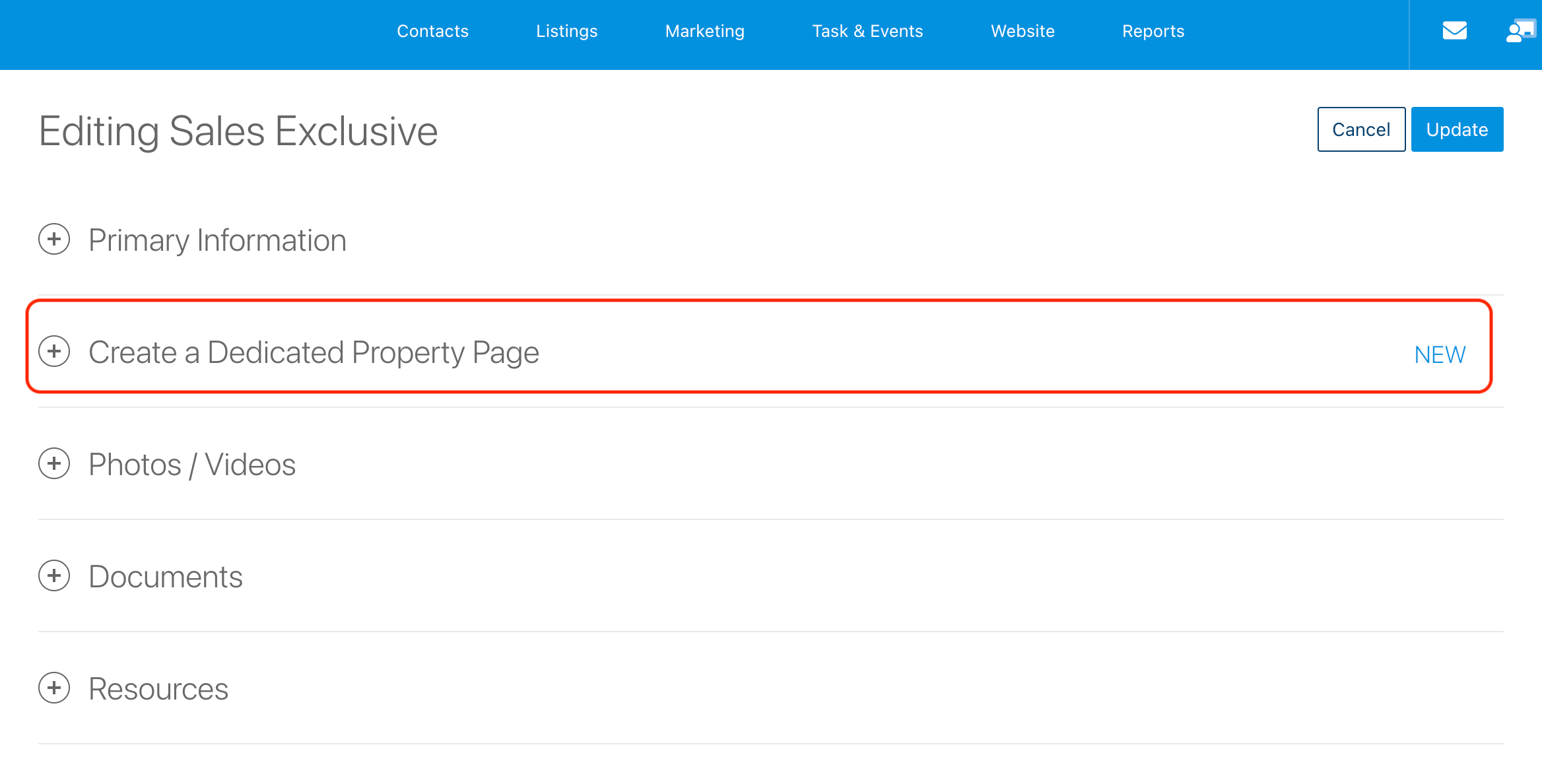 6. In this section, you can:
Add an alluring name, such as "mountain-get-away", or "sweeping-ocean-views" to be used after your Brokerage URL
Choose a Layout for your new page
Add in a different URL if one has been purchased from a Domain provider (example: www.scenicmountainretreat.com)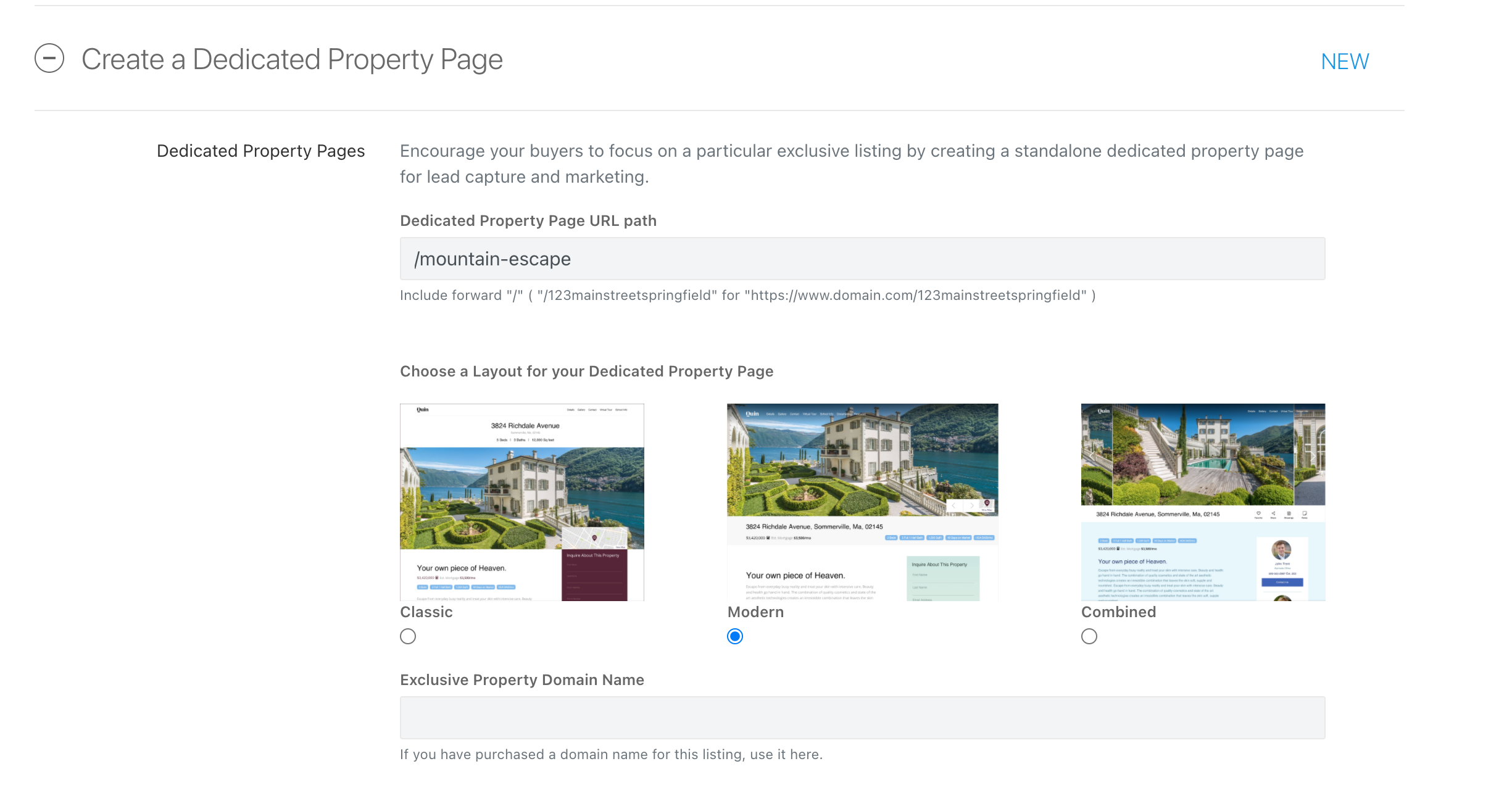 I Want to Use My Own Domain, How Can I Set this Up?
If you are looking to use your own domain, please ensure that your Domain is "pointed" to us here at Propertybase by following the instructions here under section 2. Once you have completed this, ensure that it is added to the bar shown below:

This Looks Different Than My Version:
The above screenshots were taken in the Next Gen website version. If you are currently utilizing our Legacy site backend, please see this video for further instruction:
When Might I Use This?:
Dedicated Property Pages are an excellent way to really make a property/listing pop by showing off a clean page with larger images as well as a more tailored or custom domain.
Some Items to Think About:
We highly recommend that before you publish a Dedicated Property Page, be sure to enhance/edit the listing by:
Providing new information

Uploading more imagery and videos

Adding documents such as floor plans, specifications, showing documentation, etc.

Uploading resources such as video walkthroughs, virtual tours, etc.
Our team has created three stunning templates to choose from that look fantastic on mobile devices. Test out multiple templates to see which performs best for you.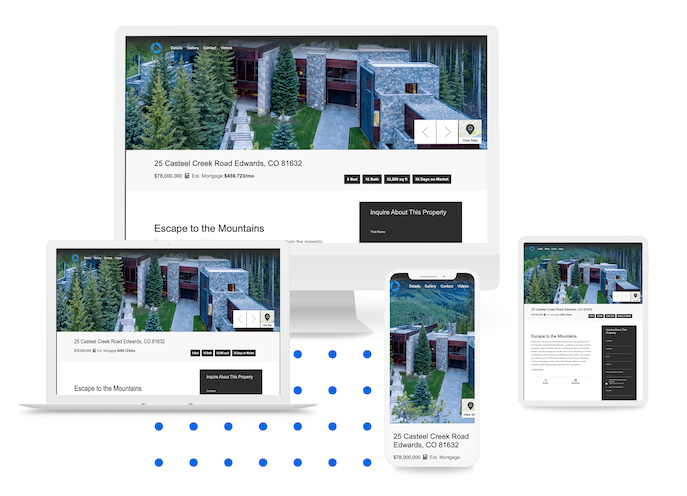 If you purchase your own domain, be sure to enter that into the URL field


FAQ:
Q: Which listings can be turned into a Dedicated Property Page?
A: MLS & PBMLS - can take "ownership" of MLS listing and override photos with high resolution, updated description
Q: Can I edit the templates?
A: No, the templates are not able to be edited
Q: I would like to turn off these pages? How can I do that?
A: Delete the page from the Websites > Pages tools in the backend
How is this different for Agents and Brokers?:
Brokers can Enhance all listings as well as create Dedicated Property Pages.